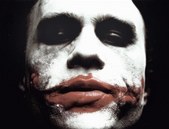 3:23 PM TEXAS TIME: The viral marketing for THE DARK KNIGHT has been badass. I don't want to receive one email saying that the "Marketing for this film sucks!" Hell, for that matter, stop sending me emails -- and attempting to make the case -- that BATMAN BEGINS's "poor marketing" hurt the film and it should've been done like FANTASTIC FOUR.
*Rolls Eyes*
That dog don't hunt anymore y'all. Anywho...
Several BOF'ers have told us that the "prize" that, ahem, The Joker sent them for participating in the Halloween scavenger hunt/"Jokerized Pictures" stunt -- which was brilliant by the way.
Anyway…
It seems that Mr. J has rewarded these folks with newspapers from Gotham -- THE GOTHAM TIMES -- that feature articles on Mr. Bruce Wayne, the mysterious Batman, and Gotham's hero, District Attorney Harvey Dent.
That's damn cool y'all! If you are one of those privledge few getting these, send BOF some detailed info on these articles.
Have a great Thanksgiving BOF'ers! Props to "Sean" and "Jake" for being the first to email BOF! Thanks guys.
UPDATE: From "Sean": "The newspaper that comes as the prize has a giant headline that says: 'CITY AT WAR: Batman Saves Entire Family.'
There is an article 'Dent Tip Line Targets Dirty Cops.' Other articles include: 'Family Torn Apart By Fear;' 'Probe: Mental Hospital Overcrowding;' 'Housing Prices Plummet As Families Flee City;' and 'Playboy Bruce Wayne Can't Stop Partying!'"
There are dozens more in the 4 page paper. They sent 25 copies!"
Thanks again to loyal Batman fan "Sean." :)