8:43 AM TEXAS TIME: A recap of the THE GOTHAM TIMES that went online yesterday (11/23/07):

"Mobsters Fight for Dominance" chronicles Gotham's gang war and reveals that three separate criminal group -- one led by "The Chechen," another by Sal Maroni (Eric Roberts) and a gang of "street toughs" run by Gambol (Michael Jai White) -- are fighting each other to gain control of the city's organized crime operation. Since the disappearance of crime lord Carmine Falcone (Tom Wilkinson) in BATMAN BEGINS, a power vacuum exists in Gotham's criminal underworld.
In an article about Bruce Wayne -- "Playboy Bruce Wayne Can't Stop Partying" -- we learn that Bruce is rebuilding the monorail system that was destroyed by The Batman (via Jim Gordon) to save the city in BEGINS. "He parties. He womanizes. He drinks," says the article of young Mr. Wayne.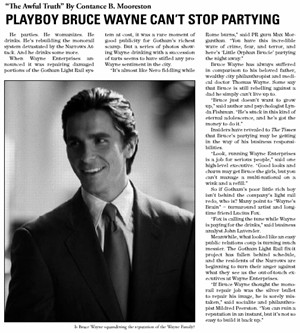 In a letter to the editor, we learn that Detective Flass is now living in a mental hospital due to severe psychological damage caused by exposure to fear toxin during the Narrows attack. Also, Flass lost his GPD pension after he was prosecuted by Assistant District Attorney, Harvey Dent.
Speaking of Dent, THE TIMES reveals that the acting District Attorney is Roger Garcetti. Harvey Dent is an Assistant D.A. who establishes a tip line for citizens to report dirty cops. Garcetti and Dent are obviously political rivals as Dent plans to run for the top job himself. In the editorial "Look Out Gotham, Here Comes Harvey Dent," the paper hammers Mr. Dent (Aaron Eckhart) for his political ambition (he's running for D.A.) and media whoring.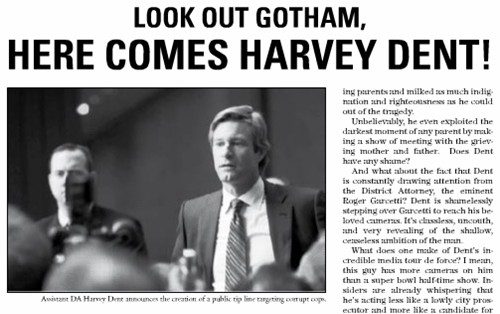 In the story titled "Family Torn Apart by Fear," readers learn about Lucy Brand whose loving husband flipped out after exposure to the fear toxin and is now in Arkham Asylum. "Probe: Mental Hospitals Overcrowded" reveals that Gotham's mental hospitals are packed following the Narrows Attack . "Rash of Clown Sightings Jolts Worried City," details the huge number of Gothamites running around in clown makeup (and uses pics sent in by Bat-Fans). And in "Housing Prices Plummet As Families Flee City" reports that for the 23rd month in a row, more people left Gotham than have moved into the city.
In other stories, Gotham's mayor (Nestor Carbonara) last name is revealed to be Garcia and we find out that The Batman is being sued by a citizen he saved from a carjacking!
There are 4 total pages to THE GOTHAM TIMES that feature several large and small articles. Make sure you read them all as they provided an excellent synopsis of what's going on in Gotham as we approach THE DARK KNIGHT.