6:02 AM Warner Bros. was kind enough to invite us (Hell, The Joker even sent us a cake!) and BOF contributor "The Jacksaur from LA" attended the LA screening of "TDK Prologue." Here's his report: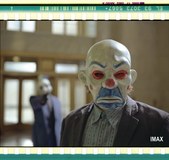 After months upon months of waiting, we've finally got our first footage of Heath Ledger's terrifying interpretation of our favorite maniacal clown.
Rather than rundown the events of the footage, which you'll be able to see in IMAX very soon, I'm just going to give you what you're really interested in: details on Ledger's performance as The Joker.
The first thing that strikes you is his imposing figure; this is a Joker built for one-on-one combat with Batman. A threatening figure, a physicality that frightens and intimidates. His voice is raspy, with a modulating pitch that seems to run from Hamill-esque highs to Nicholson's growly lows.
He moves like every part of his body could strike at any moment, a walking embodiment of the anarchy he creates. And when he takes off that mask, and flashes us a smile that makes you beg for more -- you just know this is going to be something special!
If I have a complaint with the footage shown, it's that Mr. J is behind a mask nearly the whole time. And even that doesn't seem to slow down this terrific, bizarre performance.
We get two good shots of his face, and the make-up is the same thing we've all seen in leaked shots and set footage. But blown up in IMAX format, those dark eyes get pretty damn scary. And that cut mouth looks mighty real. And I'm telling you, that smile is something really, really special.
What a tease. And according to Warner Bros. insiders at the junket, this is nothing compared to what's coming.
Get psyched, Bat-fans! - "The Jacksaur from LA"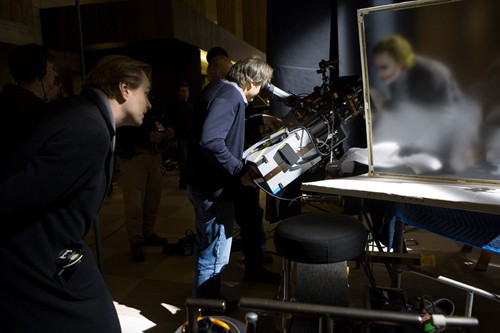 Chris Nolan directs Heath Ledger in the "Prologue" scene from THE DARK KNIGHT
(&copy Warner Bros.)