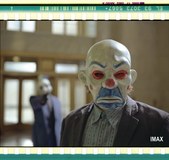 6:34 AM TEXAS TIME: WIZARD, UGO, and MTV was amongst an audience of 60 that got to see the much talked about "TDK Prologue" recently in New York.
Director Chris Nolan himself introduced the "mini-film" to the audience. If you want to read some very detailed -- and VERY SPOILERISH -- rundowns of the prologue, click on the links provided (FYI: If you want to see this fresh in a few days, I'd avoid reading these reports - Jett).
Some info that we learned from the screening was that (as BOF was told and reported), Mr. Nolan alway intended this clip to serve as a "prologue." I wanted to make the Joker's introduction a mini film," said the director. "That's what this footage is. So we shot it in this higher-quality, more intense format to get across that feeling."
The scene in question is a heist masterminded by The Joker at the "Gotham National Bank." It was shot at the Old Post Office in Chicago last April (2007).
Mr. Nolan also told the audience that he hopes that the prologue is shown at IMAX theaters right up until the premiere of THE DARK KNIGHT on July 18, 2008.
Additional "Prologue" Reports: LATINO REVIEW....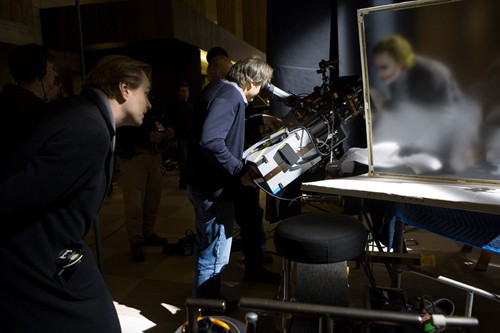 Chris Nolan directs "The Joker" (Heath Ledger) in a scene from the THE DARK KNIGHT Prologue
(&copy Warner Bros.)