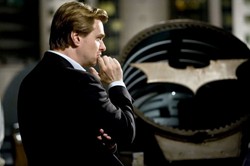 6:00 AM CENTRAL: THE NEW YORK TIMES has essentially what is a THE DARK KNIGHT set visit report in the Sunday March 9, 2008 edition.
The Dark Knight," which will be released on July 18, is jammed with characters, plot and action. It picks up where BATMAN BEGINS left off, with Mr. Oldman's police lieutenant, Jim Gordon, warning about the perils of escalation: that Batman's extreme measures could invite a like response from the criminal element. And sure enough, a deadly new villain, The Joker, emerges to wreak havoc.
In Mr. Bale's view THE DARK KNIGHT is an even lonelier outing for his character, who once naïvely thought his crime fighting could be a finite endeavor. "This escalation has now meant that he feels more of a duty to continue," he said. "And now you have not just a young man in pain attempting to find some kind of an answer, you have somebody who actually has power, who is burdened by that power, and is having to recognize the difference between attaining that power and holding on to it."
On Heath Ledger, who plays The Joker:
[The death of Heath Ledger] came well into editing, and only after the studio had introduced Mr. Ledger's Joker through posters, trailers and a six-minute Imax short. But it automatically raised the stakes: the acclaimed actor's final role would be...a comic-book grotesque?
[Wally] Pfister, the cinematographer, said Mr. Ledger seemed "like he was busting blood vessels in his head," he was so intense. "It was like a séance, where the medium takes on another person and then is so completely drained."
Will Mr. Ledger's death cast a pall over THE DARK KNIGHT whose tragic plot turns already make it much darker than BATMAN BEGINS? "We'll see," said Mr. Robinov, of Warner Brothers. Mr. Nolan, for his part, said he felt a "massive sense of responsibility" to do right by Mr. Ledger's "terrifying, amazing" performance.
"It's stunning, it's iconic," he said. "It's going to just blow people away."
The article also premieres a few new official images from THE DARK KNIGHT and here's one of them:

&copy Warner Bros. (Picture by Stephen Vaughan)
Can't WAIT to see that scene!
Click on the link provided to read the entire article. THE DARK KNIGHT opens July 18, 2008.