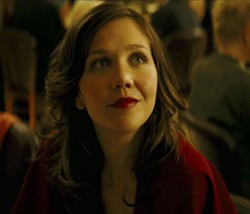 Maggie Gyllenhaal (right, as "Rachel Dawes" in THE DARK KNIGHT) has talked a bit about TDK and the role her role of Rachel Dawes:
Is your Batman character a damsel in distress?
"There are moments of that.
Chris Nolan, the director, would joke about how I had to resign myself to being a little bit of a damsel in distress but he pushed me in other ways to make her a powerful character.
I play a lawyer and have real relationships with the people I'm interacting with in the movie. She's very smart and a real rounded person. Of course, if you're the girl in Batman, you're going to be a damsel in distress to some extent but she's a really great character.
So many people I play are a mess; Rachel's really clear about what's important to her and unwilling to compromise her morals, which made a nice change."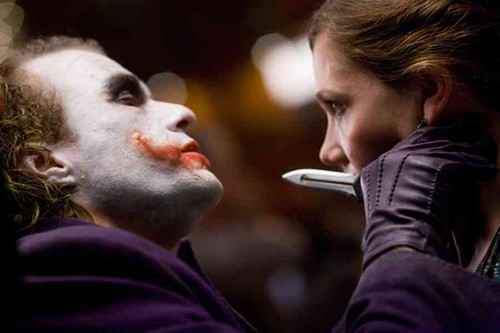 Let's put a SMILE on that FACE? &copy Warner Bros Pictures
I can't believe she didn't say anything about WAR OF THE WORLDS. What's the deal? ;)
THE DARK KNIGHT hits theaters July 18, 2008.
SOURCE: METRO.CO.UK. (Thanks to "Jabroni")