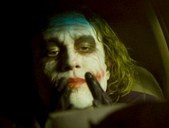 9:58 AM TEXAS TIME:
Heath Ledger visited with
MTV
and talked again about his turn as The Joker in next year's
THE DARK KNIGHT
. Here's some highlights:
* "ďItís the most fun Iíve had with a character and probably will ever have."
* "It was an exhausting process. At the end of the day I couldnít move. I couldnít talk. I was absolutely wrecked."
* "He [The Joker] has zero empathy."
* Influences? "A Clockwork Orange was a very early starting point for Christian [Bale] and I. But we kind of flew far away from that pretty quickly and into another world altogether.
* Sid Vicious? "Yeah, I guess so. Thereís a bit of everything in him. Thereís nothing that consistent...There are a few more surprises to him!"
The report also states that one of his goals is to scare the crap out of audiences next summer!
SOURCE: MTV MOVIE BLOG.