1:56 PM:
THE LOS ANGELES TIMES
ran an article about
THE DARK KNIGHT
's IMAX prologue that has been seen by a limited number of fans and members of the media this week. Here's a bit from the story:
* "Heath's Joker is like none we've seen before, but it's also very true to the iconography of this character," Nolan said. "His work is very compelling, and it's not easy to describe what Heath has accomplished with it . . . we don't know much about the Joker's past. He is more interesting in the present, I think . . . he's relentless, he tears through the movie like the shark in JAWS"
"I can't wait for people to see what Heath has done with this character, and this opening sequence, which is intended to stand on its own as a mini-movie, gives people a taste of that." - Director Chris Nolan
* Nolan also acknowledges publicly for the first time that Cillain Murphy reprises his role as "The Scarecrow" (which all Bat-fans already knew) in TDK. "He is in the film briefly, yes,' said the director, "but I don't want to give away all of our surprises."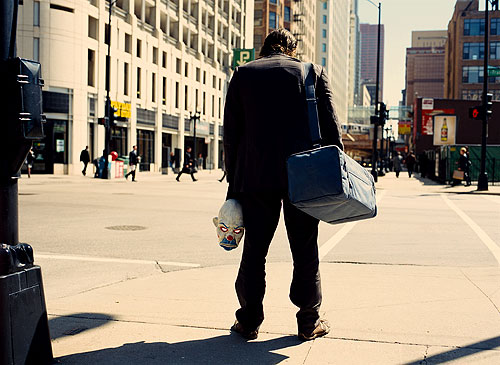 &copy Warner Bros. Pictures