4:06 PM TEXAS TIME:
"Corey D." says, "If you crank your sound when the letter burns away you hear The Joker say 'Tonight, you're going to break your one rule.'"
UPDATED:
Refresh this page if you haven't already! Thanks to "Sam C."
3:42 PM TEXAS TIME: OK, we've got THIS (click to enlarge):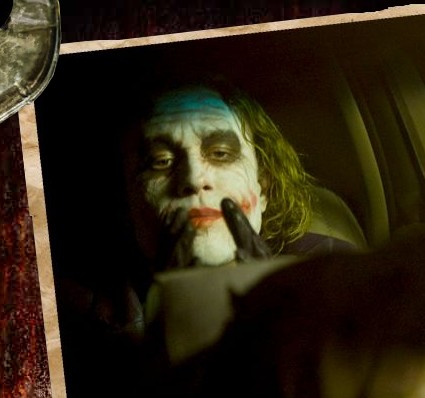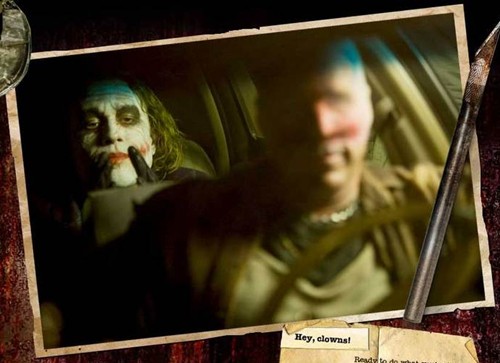 3:03 PM TEXAS TIME: Now it's only one left! I bet the SOB's make us wait and squirm! ;) Anyway...
You can cleary read what it says -- and have been for a while actually: "THE ONLY SENSIBLE WAY TO LIVE IN THIS WORLD IS WITHOUT RULES." Sounds like something a "pure anarchist" would say, right?
1:20 PM TEXAS TIME: Down to 2 dadgum letters/images! Come on Denver and Alburquerque! Come on you Southwestern Bat-Fans!
11:14 AM TEXAS TIME: "Just returned from a trip through San Francisco's Nob Hill area to collect photos for the hunt. Submitted to the web site were the letter 'I' from infront of a cushy hotel, and a the letter "O" from the facade of a large apartment/hotel building located accross from the 'Heart of Union Square.' Oddly enough, my cohort and I spotted a guy dressed as the Heath Ledger Joker crossing a street during the cable car ride up the Hill. Coincidence?" - BobKong from San Francisco, CA
"The second letter for Pittsburgh is M - or W which makes sense for the puzzle. It is literally part of the 50-cent tour of the incline." - Dave A. from Pittsburgh, PA
10:22 AM TEXAS TIME: Here's the latest screenshot: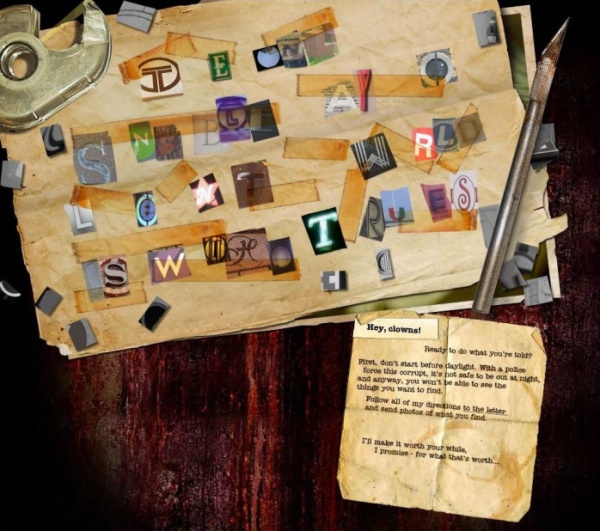 It looks as if there is a picture of some sorts underneath. A few more letters remain and I'm thinking whatever it is will be revealed.
5:00 AM TEXAS TIME: BOF will post info about "The Joker's Halloween Scavenger Hunt" from BOF readers here!
"The first Atlanta one (the one relating to Woodruff park) puts it at the end adjacent to Luckie St. and Georgia State University. Approximately two blocks away is the second location: The Building housing The Court of Appeals." - Gary H.
"From Austin, TX: I live near this intersection, found the car wash with the mural (which features the immortal Stevie Ray Vaughan, by the way). I found a manhole that says 'SEWER,' as opposed to 'SEWAR.' Maybe someone will change it tonight, the site did say wait until daylight. Anyway, I checked out the skyline and directly ahead was an Embassy Suites hotel with their giant "E" symbol showing (which also resembles the icon on whysoserious.com that had these instructions). Looks like Joker's spelling out a message? Another fella was out there, too! Lot of dedicated folks walking the streets across America!" - James from Austin, TX
"The Chicago letters are: M, R, Z." - Darren from Chicago
"Seattle: At Stevens and I-5, there is a veritable over-achiever here, sitting atop his tower, green and hard-to-miss, especially during rush hour. It's the giant neon green 'T' atop Tully's Coffee headquarters at Airport Way and Stevens, visible every night from rush hour traffic on I-5" - Peter F. from Kirkland, Washington
"Seattle: I live just a couple blocks away from here, and there's an Uptown Eyewear on the same block as Jabu's Pub. It has a red wall with a big letter 'E' on it." - Alain H. from Washington (state)
"Pittsburgh: Since I live right in the city, I ran out at 1am last night to solve the Pittsburgh clues from whysoserious.com - I wasn't waiting. The letters found appear to be a 'T' (Liberty & Wood) and an 'I' (Grandview & Oneida)." - Matt H. from Pittsburg, PA
"The Portland clue is a 'T'. Found it near voodoo doughnuts in Portland, and figured it fit best compared to the 30 or 40 other circled letters/things we found." - Dominic M.
"Number 45 for Miami is letter 'U'." - Manny C. from Miami
BOF forum members are posting info HERE, FYI. Plus, WHYSOSERIOUS.COM is being updated constantly.