BACKSTAGE.COM
spoke to
THE DARK KNIGHT
producer Emma Thomas about Heath Ledger. Here's a few excerpts:
* "Heath was actually one of the first pieces of the puzzle that came into place. We knew that casting this role was going to be one of our biggest challenges with the film because of Jack Nicholson's iconic Joker. It was going to differentiate us and summarize what our take on this Batman movie was. When we cast Heath, we didn't have a script at this point. But Heath's agent expressed interest, and Chris thought it was an interesting idea. He had talked to Heath on many occasions over the years about different roles, and they never quite found the right thing to work on together, but they chatted and had a fantastic meeting, and Chris left thinking, 'Oh my goodness, this is the guy.' There was no formal audition, just a meeting of the minds."
* "The minute we started makeup and wardrobe tests, it was very clear that Heath was going to be mind-blowing. There was a lot of buzz around the set about him. I remember the day he came in and tried on the nurse's outfit and the socks — this was even before he had the makeup on and the hair. Suddenly he changed the way he moved, and we knew it was something special."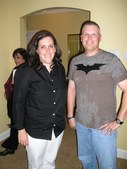 * "The thing that really Heath nailed, and I think what touched a chord with people, was that there was no predicting what he was going to do next. There was no motive; it was purely about messing with people."
* "We've lost a great, great actor. By looking at what he had done prior to our film and getting the privilege of watching him work on our film, he could have honestly turned himself into anything he wanted and would have done a great job. Everything he did was different, and he made everything his own."
* "It would definitely be a triumph for us if Heath wins an Oscar. Obviously things have changed in that he's not here, but nothing has changed in that we hope he's going to be recognized for his work."
For the full story, click on the link provided. Also, if you missed my interview with Emma Thomas, you can reading it HERE.