THE LA TIMES has a new interview with actor Aaron Eckhart who plays D.A. Harvey Dent (and Two Face) in THE DARK KNIGHT. (FYI: There is information in the article that may be considered significant SPOILERS to some. That info is not found in this report of the article.)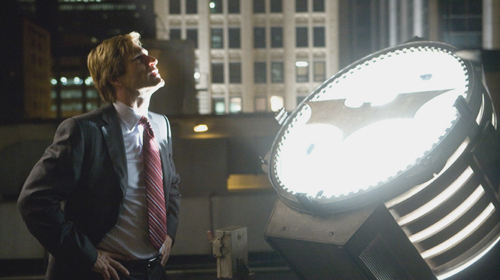 Harvey Dent signals for The Batman! (&copy Warner Bros. Photo by Stephen Vaughan.)
Says Eckhart of his Dent: "That's right, people don't really know yet [what Two Face looks like]. I can tell you that, basically, when you look at Two-Face, you should get sick to your stomach. Being the guy under all that, well, that was a lot of fun for me. It's like you would feel if you met someone whose face had pretty much been ripped off or burned off with acid. I can't talk about it beyond that because I don't want to give away too much of the plans by Chris. There are fans on the Internet who have done artist's versions of what they think it will look like, and I can tell you this: They're thinking small; Chris is going way farther than people think."
Click on the link above to read the full article.
THE DARK KNIGHT opens July 18, 2008.