TDK
Panel

Posted by:
Bill Ramey
Saturday, August 11, 2007

On Saturday, August 11, 2007, THE DARK KNIGHT crew made an hour long appearance at Wizard World Chicago. Representing TDK was David Goyer (story), Jonah Nolan (script), Chris Nolan (director), Christian Bale (The Batman), Aaron Eckhart (Harvey Dent/Two Face) -- who came out holding his hand up vertically and splitting his face in half, and Gary Oldman (Jim Gordon) -- who danced a little jig as he entered the stage. The panel was moderated by DC head honcho, Paul Levitz. Also attending, but not on the panel, were producers Emma Thomas and Charles Roven.
The panel was held in a very large ballroom with several hundred Bat-fans packed to the gills. To get in, you had to pick up a wristband the morning of the event at the DC Comics area at the convention. One also received a very cool T-shirt with the TDK logo on front and "IN THEATERS JULY 2008" underneath. When hit with a fluorescent light, you're able to see it plastered with "HAHAHAHAHAHAHA!"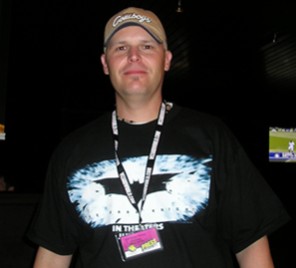 A tired Jett models the TDK T-shirt after a LONG day at WWC 2007
Levitz introduced the panelists one by one and each received an enthusiastic round of applause -- especially Chris Nolan, Christian Bale, and Gary Oldman. Levitz made some general statements ending by saying that giving one of the DC characters to a filmmaker is like having your child adopted -- you want the best for them and in good hands. He then said that he's never been more honored to work with someone like he has been able to with Chris Nolan.
At that point, each of the panel members made some general statements about the film and how glad they were to be in Chicago at Wizard World, etc, etc. etc. Here are a few misc. comments from the guys: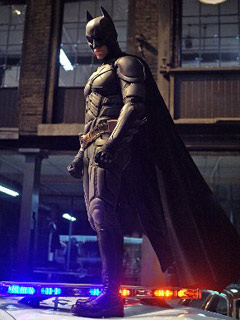 * Jonah Nolan let everyone know that he grew up a Batman fan and was raised in Chicago.
* Bale (talking in an American accent this time) said that it's an honor to reprise the role of the most "badass superhero" there is.
* Eckhart he's glad to be part of Batman and everyone will be pleased with what's going on.
* Bale said that he didn't grow up a Batman fan and that his only exposure to the character was the Adam West TV show. But he read Frank Miller's YEAR ONE and said to himself, "Why in the HELL hasn't anyone made THIS Batman [into a film] before?" He now loves the character and it is evident.
* Chris Nolan again mentioned the first two Joker stories in BATMAN #1 as having a very strong influence on the story and how The Joker is portrayed. He also said that when deciding to use The Joker, he and David Goyer had to think about how this character would exist -- what would he be like -- in the BEGINS universe. How does he "fit?"
* Jonah Nolan says that he now is having a hard time "…getting The Joker out of my head."
* Chris guaranteed that we're going to see more of "The Dark Knight Detective" in TDK.
* David Goyer said that he was worried about not topping BATMAN BEGINS, but simply coming close. But he worries no more, "My jaw is dropping with this one."
* And yet again, every damn person talked about "The Heath-Joker." The most commonly used phrase to describe his work on this film: "Brilliant."
* Nolan did confirm that The Joker is a Texan and will have a Texan draw. That, I made up.

Fans waiting in line for the TDK panel
After the panel comments and a brief Q&A session with fans, about 3 minutes of footage was screened for the audience. My initial reaction? TDK is really dark.
We got to see…
* Alfred saying "Some people just want to watch the world burn," which takes place outside...
* The Batmobile and the Batpod in action…
* The first meeting between Bruce Wayne and Harvey Dent. "The famous Bruce Wayne," says Dent, "Rachel told me all about you." "I hope not," Bruce responds...
A cool shot of The Batman on top of a building scanning the city…
* Several brief shots of Heath Ledger as The Joker -- and he's one sick and sadistic-looking bastard…
* The Joker in a jail/holding cell -- F'n SWEET and creepy as hell…
* Gordon going off about The Joker not having any sort of ID ("Only lint and a knife") -- no fingerprints, no I.D., etc....
* The Joker and Rachel dancing -- from the "Why So Serious" pic released two weeks ago...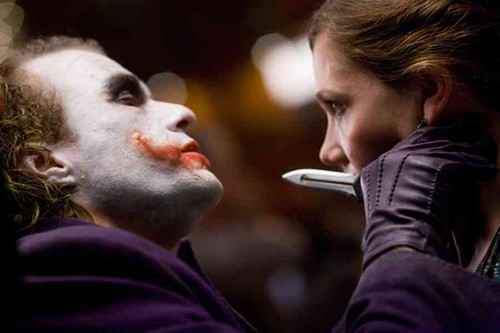 The Joker, Rachel, and a Knife
* The Joker blasting away with a machine gun surrounded by flames...
* Rachel kissing, well, someone...
* The Joker on TV laughing his ass off -- AWESOME...
* The Batman kicking The Joker's ass in a holding cell…
* A spinning coin on a bar top, then a guy (the bartender?) asking Harvey (who we only see from behind...and scarred), "Dent? I thought you were dead?" Harvey's response: "Half."
My gut reaction is that The Joker is a REALLY F'ed individual -- we'll hate him as I've long advocated. The Batman is pissed at what is going on in his city -- perhaps he questions himself and thinks he is the cause of it all?
All in all, some great stuff that didn't reveal a damn thing -- except confirm to me that THE DARK KNIGHT is going to kick some major arse next summer!
Real quick, thanks to "Very Nice Person" for the invite and all you BOF'ers I met today -- very cool!
8/12/07 UPDATE: Wizard has posted video of BAT-FAN'S REACTION to the TDK panel. Wizard also has THE FULL TRANSCRIPT of the short Q&A moderated by Paul Levitz.