7:22 AM TEXAS TIME:
THE LONDON PAPER
is reporting that an explosion took place at the Battersea Power Station that was part of the UK
TDK
shoot.
Here's a blurb from the article: "The spectacular stunt scene, in which Batman actor Christian Bale narrowly cheats death, is believed to be the opening sequence of the fifth caped crusader movie 'The Dark Knight.'"
Uh, it's the 6th BATMAN -- the Warner Bros. films, that is -- and the 2nd of the new series.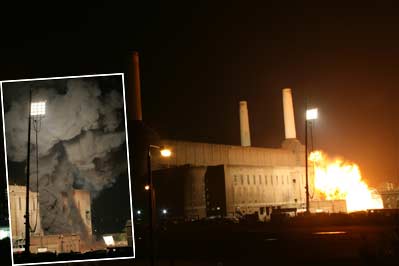 &copy 2007 THE LONDON PAPER
Looks to be a cool part of the film. They sure seem to be blowing up a lot of stuff! Thanks to "DLB" for sending the link!
UPDATE: Check out these cool pics via WENN.COM.
UPDATE 2: Another article on the stunt via THISISHERTFORDSHIRE.CO.UK. (Thanks to "Chris M.!")