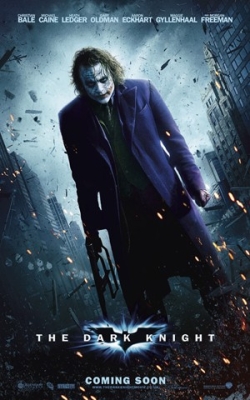 It's been a year since
THE DARK KNIGHT
hit theaters, but I still get a tad emotional whenever I watch, talk, or write about this film.
It is THE reason I started BOF some eleven years ago. This is the film that I long campaigned and lobbied Warner Bros. for on behalf (wanted or not) of Bat-Fandom.
And boy did it deliver.
Not only is it the best BATMAN film to date (by FAR in my opinion), but it's the best comic book film of all time as well.
The BEST at the box office…
The BEST amongst critics…
And the BEST when it comes to accolades.
Did you ever think a "comic book movie" would win an Oscar for a performance?! Well one did, and it was BATMAN flick at that!
(It should've been nominated for "Best Picture," but I shall digress.)
To mark the 1 year anniversary of THE DARK KNIGHT, I thought it only appropriate to take a look back from a personal POV.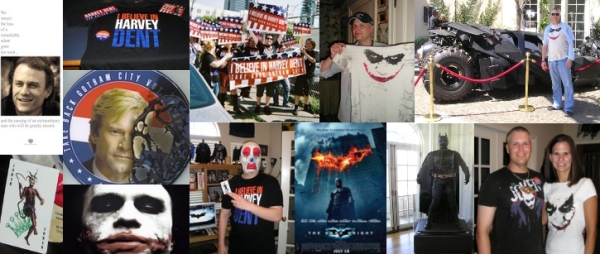 Like I said, it's the reason I started this website. I covered this film day to day from the moment it was announced in July of '06 to the day it hit theaters a year ago. Hell, I'm actually STILL covering this movie! That right there is proof positive just how much TDK affected -- and still affects -- pop culture.
The TDK "experience" for me is something I'll never forget. Not only did I work my rear end off every day to chronicle the film's production, but I also got to do some stuff that I never dreamed about way back in June of '98. Please indulge me for a moment while I reminisce…
I went to the set in Chicago in June of '07. You know that scene where Batman and Gordon meet in the bank vault? Saw it filmed.
That viral "Why So Serious?" campaign -- absolutely brilliant.
I returned to Chicago a couple of months later for the sole purpose of attending the TDK panel at Wizard World Chicago. Really, that's the only reason I went to that Con. (That, and because I like Chicago too!)
A few weeks before it was released, I flew out to Beverly Hills, California and got the chance to visit a bit with THE MAN responsible for all of this: Chris Nolan. I also sat down and chatted a while with his wife -- and TDK producer -- the lovely Emma Thomas. That was on top of interviewing the cast and crew and well as seeing the actual movie the night before!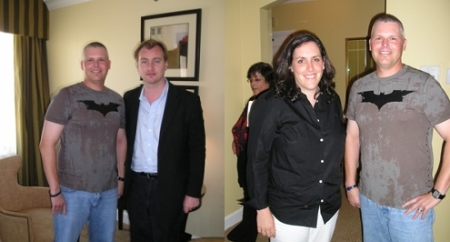 With Chris Nolan (right) and Emma Thomas (left)
In July of 2008, I flew up to New York City and attended the premiere of THE DARK KNIGHT. Not as a member of the press mind you, but as a guest. That right there just might be the greatest moment of my BOF life. Invited to a movie premiere…. *shakes head*
When Heath died, I mourned for him like I lost someone close to me. When he won that Oscar for playing The Joker, I was as proud and happy as I would be if my football team had won the Super Bowl.
For over a year, TDK had a lot to do with my daily life. And truth be told, it still does.
I wrote about it, I talked about it, and I did interviews about it on radio and other media outlets. I wore some sort of TDK-related gear just about every day to promote and show my pride for that film.
Three -- yes THREE -- TDK framed posters hang in my office -- including that iconic one of Heath's Joker on the streets of Gotham surrounded by anarchy (see above right).
I even campaigned for Harvey Dent on the streets of Houston and Austin here in Texas!

"I Believe in Harvey Dent!"
(Houston left, and Austin, right)
How many times have I seen TDK in theaters and on DVD/Blu-ray? Gotta be pushing 100.
Anyway…
I love this film, YOU love this film, and I felt its one year mark had to be recognized.
Thanks to ALL involved -- I don't care on what level and in what capacity -- for THE DARK KNIGHT. I'm sure all of y'all are very, very , VERY proud.
I know I am.