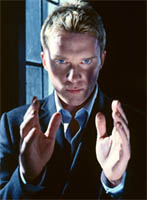 It's been known for a while now that actor Anthony Michael Hall plays a Gotham City TV news reporter named Mike Engel. But is there more to Hall's character than what it seems? Here's a bit of what AMH had to say recently about TDK:
"I can tell you this: It's the biggest movie of my career. I can't wait for people to see it."
"Basically, we shot in Chicago and London. Heath Ledger, who obviously isn't with us, sad to say, did a great job. He plays The Joker. I worked with him and with Christian Bale a lot. I had the most fun with Gary Oldman. I really was honored to work with Gary and to spend some time with him. We have a lot of mutual friends. We would joke and talk about everything but show business."
"[Director Chris Nolan] did a great job reinventing this BATMAN franchise by making it darker. I think the consensus of the previous films was that the franchise had gotten out of control, that it was a little bit goofy and over the top, especially in the Joel Schumacher versions. But what Chris Nolan did was brilliant. He started by hiring Christian Bale, a British actor who, by the way, according to Chris, was the first actor through the door. Then surrounded him with other great actors — and I just feel so honored to be considered worthy to be part of the company."
THE DARK KNIGHT opens July 18, 2008!
SOURCE: CREATORS.COM.