The following are reports from the TDK shoot in Chicago via our insider friend "Alfred Pennyworth":
Saturday, September 1, 2007
Scenes shot today (Friday, 8-31-07) in downtown Chicago included a convoy of police vehicles, with Gordon, racing to the procession scene (which was shot last weekend).
And the very best -- but very sad -- "Car" crash. Who was driving, well that won't be hard to figure out. It wasn't "#1" as he is called on the set, but he was there for a few insert shots. #1 was looking very dapper and debonair. Standing around seemed unusual for Christian -- he was even talking to some of the background actors on the street.
Then they set up for the crash of the brand new 2008 "Car" which would be crushed between a police SUV and a pickup truck as it raced to go to…well you'll have to see the movie!
The stunt was extraordinary with no injuries to any of the top notch stunt guys involved. So sad to see this beautiful and expensive piece of machinery crunched into an usable piece of scrap metal!
But that's Hollywood for ya (I did hear it was "product placement" anyway)!
Last day of filming tomorrow kids!
See ya then. Same bat time same bat channel!
- A.P.
Thursday, August 30, 2007
Coverage of Bruce Wayne in his Lamborghini trailing a GPD Excursion cutting in front of a pick up truck through the streets of Gotham.
Well, it was supposed to be a tow -- you know they tow the car and film the guy driving it for an insert shot later -- but guess who was actually driving down old Lake Street in Chicago today?
I'll give you a hint! -- It wasn't Buster Reeves or a stunt driver!
Getting close to goodbye kids!
- A.P.
Monday, August 27, 2007
This week, there will be scenes shot with Bruce Wayne (Christian Bale) in his Lamborghini tailing a police van -- seems he may be doing some surveillance.
There is also a HUGE F/X "stunt" taking place and it involves a building. I believe it will be doctored up to look like (pun intended) a hospital.
Also, stuff involving The Joker, a school bus, explosions, Gordon, Dent, and another "Joker broadcast."
A report from Sunday August 27, 2007....
Early AM a practice run for a shot to take place in Hong Kong took place with Batman stunt man extraordinaire, Buster Reeves, not far from the Chicago Navy Pier.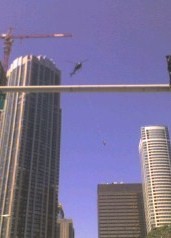 The stunt involved Buster being picked up by a chopper and gliding down 45 stories to the grown. It was pretty amazing to see a guy slowly and gracefully glide down even if without the effect of the cape which he was not wearing. You have to look really closely for the chopper here and the little itty bitty guy dangling from it.
The other 3 or 4 times the chopper went to the roof where the rope harness was attached to its belly and the other end attached to Buster.
The chopper then slowly took off rose to a certain altitude at which point Buster was lifted off the roof, free fell a certain distance, and then slowly brought down to the construction site below -- which had been cleared for the chopper to come low enough in order to disengage the harness from both the chopper and Buster.
The final time it looked as though they were trying to do some sort of extraction from the building as Buster was accompanied by another stuntman for the ride down to the ground level
Quite spectacular for an early morning in Chicago!
If you look closely, you'll be able to make out what was shot the other night and has become known as the "sausage link stunt," because it involves the four SWAT guys hanging off a 45 story building.
2 helicopter cameras were used.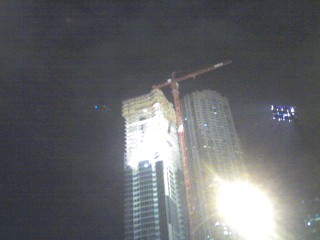 It was shot on three different occasions -- once on Thursday -- which is the picture your looking at -- again on Friday, only with sandbags instead of stunt guys, and again Sunday night at 10ish.
There will no doubt be plenty of video of this as they were not that concerned about people shooting it. They just asked folks not to use a flash as it could ruin the shot.
So look around its probably out there somewhere!
- A.P.
Sunday, August 26, 2007
"Parades, parades, parades! Everybody loves a parade -- bagpipes, horses, uniforms and lots of them. 900 extras all looking their finest -- white gloves and all. But oh so somber was the overall mood!
Shooting included shots at the following:
Parkside Avenue, Gotham City -- Police march, Engel does a stand up. Security is very heavy. Gordon talks to a sniper above. Pandemonium soon ensues.
Later that night, more rehearsals for the SWAT team "Sausage Link" helicopter stunt except tonight they used sandbags instead of stunt guys, don't know why.
I'll be reporting to Jett and will have an early morning surprise that I will send in just as soon as it happens. So stay tuned Bat fans, it's a very exciting piece of information happening early tomorrow morning in Chicago!"
- A.P.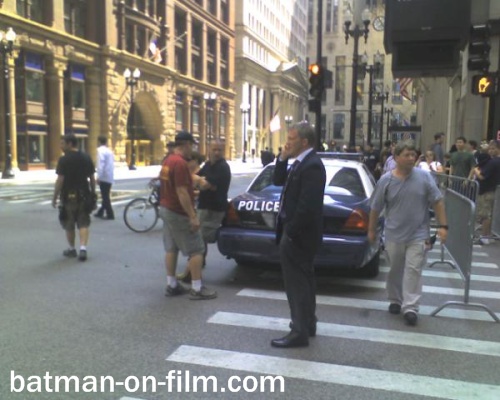 Anthony Michael Hall on the TDK set in Chicago
Thursday, August 23, 2007
"Scenes shot today in rainy "DOWNTOWN GOTHAM" today include…
Maroni's "headquarters" -- an upscale restaurant -- had Gordon, Maroni and the Chechen gang present with many,many extras!
People are arrested and a broadcast by "You-Know-Who" (He wears PURPLE) throws a happy hour crowd into confusion!
OH MY!
Meanwhile at Soldier Field, a small rehearsal with 300+ extras took place for the big "procession" scene coming up later this week. The real one will have over 1,000 people in the scene!
The rehearsal ended at Soldier's prematurely as the rain, thunder and lightning bolts had started!
Helicopter and more rehearsals scenes also canceled this evening due to weather -- imagine trying to fly a chopper in a city at low altitudes in near tornado conditions! No doubt weather will continue to interfere with the frantic production schedule as more severe weather has been predicted through tomorrow night.
This throws everything into a frenzy and time is ticking for the Chicago TDK production schedule as the weather is not cooperating at all!
More later kids!"
- A.P.
Wednesday, August 22, 2007
"Nice hot day at the Illinois Port Authority way outside of the downtown [area of Chicago]. This is where the Wayne yachting scene took place, with a bevy of pretty girls -- Oh that Bruce!
On hand the reclusive Mr. Bale…and the wonderful Micheal Caine -- who just looks terrific…!
They also shot a helipad scene on a simulated pad they constructed out of wood at the Port Authority with a huge green screen behind it which will end up after all is said and done looking like he's landing at the his penthouse in Gotham -- no spoiler here!
Also, I hear some rehearsals took place downtown for the rappelling scene set for later this week.
Stay tuned Bat-Fans, were coming close to the end here in the States!"
- A.P.
Thursday, August 9, 2007
"A.P." sent BOF a report of what is shooting this weekend -- NO SPOILERS!:
"Stuff at 'Wayne Enterprises' between Bruce/Batman and Lucius Fox...
Gordon, Ramirez, and GPD SWAT inside and outside 'Gotham National Bank'...
And Dent will be holding a 'press conference.'"
"A.P." says that we should be leery of some of the info reported by LATINO REVIEW on 8/9/07.
Monday, August 6, 2007
The following is from the August 4th, 5th and what's coming this week:
Saturday Shoot Report (8/4/07)
It was the last night of TDK shooting in the Chicago's Financial Center on La Salle St. Most if not all of the all night shooting seems to be over and they will now be moving to day shoots.
Very light shooting schedule today starting at 3 PM. Batman, Gordon and Dent present, some stunts, car on the sidewalk, simple straight forward, nothing grand.
Company then quickly moved to Lower Wacker for about an hours worth of pick up shots with the armored car and the Batpod driven by Batman stuntman Jean Pierre Goy.
This guy Goy is something else. He has really come to master driving that bike, which can be no easy task with those monster wheels. Not that he hasn't had his share of accidents, slamming one into a lamp post unscripted one night.
Sunday Shoot Report (8/5/07)
Back at the Old Post Office with Dent and Batman (as well as other stuff).
This week, interiors @ Wayne Enterprises (Executive Dining and Applied Sciences). Exteriors involving Fox and Bruce/Batman as well as Fox and Lau.
Saturday, August 4, 2007
The following is from the August 3rd - 4th shoot:
"Here we are again, downtown Chicago, Financial District.
Scenes shot tonight into the early morning include…
The Joker, Batman -- for a a few scenes,and background cars and props. One more night downtown and then they move back to the post office.
The Joker, his head out the window, it smells like victory . Lots of cars, and explosion, and an armored truck. Traffic gridlock forces Gordon to drive down the sidewalk.
Batman on the Batpod going like a bat out of hell and traffic scatters.
Lots of fun kids, lots of fun!"
Friday, August 3, 2007
"A.P." returns with a brief update on last night's shooting (8/2-8/3):
"The TDK shoot continued in downtown Chicago in the heart of the financial district .
Mostly scenes of the Christian Bale being pulled around on the Batpod -- back and forth and back and forth some more. Passing him on the towed Batpod were dozens of Gotham prop cars used mostly as background in the scene.
There was one great scene in the beginning of the night when they used the Batman stunt guy -- Jean Peire Goy -- driving the pod right up a…
Whoops!
No spoilers, no spoilers, no spoilers! Wait for July of '08 'cause this one's gonna blow your mind!
Other than that we'll look forward to Friday night, see 'ya then!"
Thursday, August 2, 2007
"A.P." is back with a report from the August 1st night shoot in Chi-Town. It's very spoilerish, so I've edited it down a tad.
My man says that "All hands [were] on deck" last night/this morning for the shoot -- The Batman, The Joker, Joker Goons, Dent, and Gordon. Lots of the props you've seen here on BOF and other sites as well -- I mean BIG ASS PROPS -- were present. And A.P. says "security was tighter than a snare drum!"