The following is a picture of serveral "Tumblers" parked during the shoot in Chicago from "Hook 'Em."
"First of all I want to tell you what a great site you have put together. If it wasn't for you my trips to Chicago for work wouldn't be as exciting as they have been.
Now I know that this isn't as exciting as what others have been reporting on but this is what I was able to find out during my trip down to Wacker last night (Monday, 7/16/07). I got there around 10 PM and there was no action whatsoever. I surveyed the whole area and even walked to the trailer park and didn't see any much of security at all. I was able to talk to one of the security guys who was guarding some equipment but he said he didn't think they were going to be filming anything, but thought that they might be doing some more filming tonight (Tuesday).
I was able to locate where they had the tumblers parked (On lower Wacker) and snapped the attached pic. I'll try to make it back down there tonight to see if anything cool is going to happen. Hope this helps."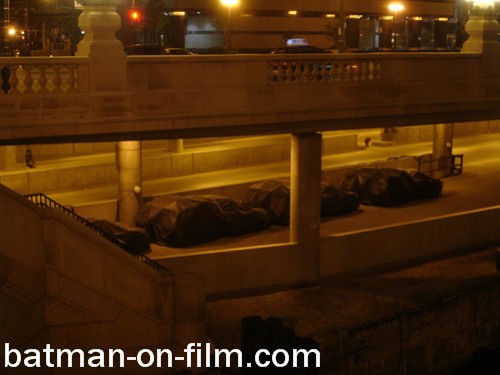 Again, thanks to "Hook 'Em" for sending in this report!