The following is a report of TDK shoot in Chicago on July 14, 2007 from "Bat-Ror."
FYI: Some may consider the info SPOILERISH.
"Hey Jett! Bat-Ror' back again with more action.
'Bat-Contini' and I arrived at Wacker at around 10:30 PM to watch the action last night. We walked by an area with crew vehicles and spotted The Joker's semi so we knew right away there would be some good stuff to see. There were already quite a few people across the river and on the bridge watching. The Tumbler was below with a couple of camera cars and a lot of crew. Chris Nolan was walking around. After a while everyone moved out of the way underneath Wacker. The Tumbler sprang to life and raced off. They did this several times with the Tumbler racing up and down Wacker. There were gotham cars and taxi cabs that it weaved through on both runs.
I asked one of the PA's if Ledger was on-set and he told me that he was and that they would be shooting Joker related chase scenes. We waited around for a bit more and then they hauled out the Joker's semi. The crew began to prep it and after a little bit Ledger himself came out. He stood in plain view of everyone next to the semi and had a smoke [ Stop that Heath! - Jett ;) ].
He was in full make-up and costume and looked absolutely amazing! He continued to stand there for about 15 minutes and then hopped into the back of the truck. The crew continued to prep the interior for quite a while and things started to get under way. Nolan and Pfister got into a camera car and they back up the tractor trailer. And then filming commenced.
The tractor trailer raced by. Inside the open door we could see Ledger and a henchman bouncing around and shooting a gun (the shots could be heard quite well). 'Bat-Contini' was on the other side of the bridge and saw an incredibly site. The tractor trailer smashed into several cars (he got it on film) and raced onward. A few seconds later a gigantic explosion was heard with more gunfire. We didn't get to see the explosion because it was much further down on Wacker, but it sounded HUGE!
A guy on a bike came by and showed us some AMAZING pictures he got of the Bat-pod and told us where it was. By the time we got down there it was gone (though we did get to witness two drunken people go down and climb through a fence right onto the road where they were shooting. Needless to say, the crew wasn't happy, but it was amusing to watch anyway).
They continued to film, but we left around 2:15 AM."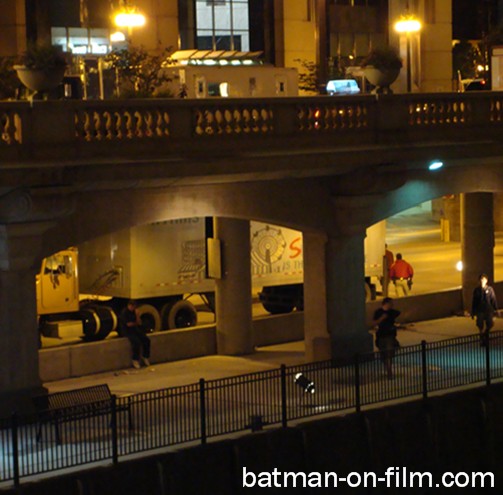 Bat-Ror's Video:
Again, thanks to "Bat-Ror" for sending in this report!