The following is a report of TDK shoot in Chicago on July 13, 2007 from "Bat-Ror." FYI: Some may consider the info SPOILERISH.
"'Bat-Ror' is back with lots of Joker info. And quite exciting too.
This evenings filming took place on Monroe between Wacker and Franklin. The scene that was shot involved Gotham Police officers, The Joker and one of his henchmen. (Highlight to read) The Joker and his henchman are behind the wheel of the tractor trailer (which says 'Slaughter is the best Medicine') are driving full speed down the street through a police barricade. A policeman jumps in front of it to stop them and The Joker leans out of the window and shoots the policeman in the face (or chest, I was at an odd angle). At this point they continue to drive through the barricade. They shot this until about 9PM.
Heath Ledger was on set and in full make-up along with his stunt double (though when not shooting they wore hoods and cloaks to cover up the make-up and costume). Also, The Jokerís costume will not disappoint fans, from what I saw. My friend (aka 'Bat-Contini') and I had a great vantage point of all the action. we perched ourselves right in the median of Wacker and were well beyond the rest of the other crowds that were forced to wait on the other side of Wacker and had zero view of the action.
It was a great scene to watch regardless (and Heath looks utterly terrifying). More tomorrow night.........hahahahahahaha!!!!!"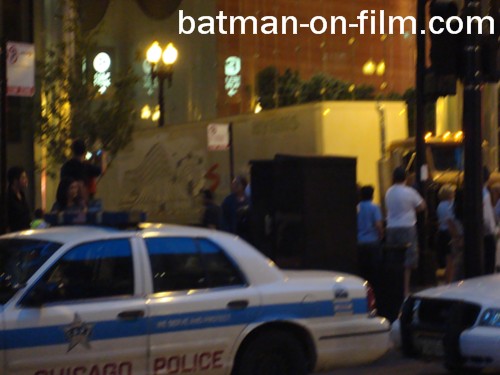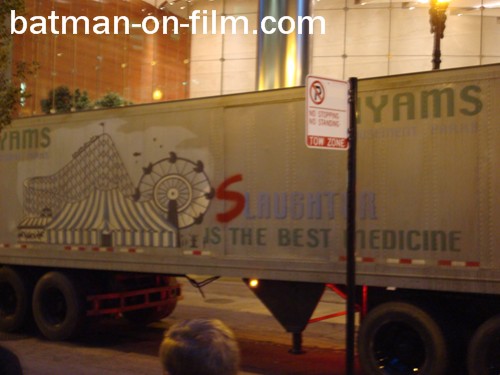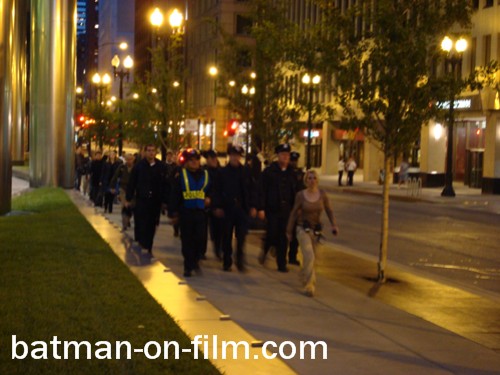 Again, thanks to "Bat-Ror" for sending in this report!