The following is a report of TDK shoot in Chicago on July 12, 2007 from "Bat-Ror." FYI: Some may consider the info SPOILERISH.
"Bat-Ror" again with the scoop and pics, hot off the presses! The TDK crew was again at it this evening, this time on Wacker between Madison and Van Buren.
Shooting commenced at around 7:30 PM. The crew rigged up a (highlight to read) burnt-out fire truck on the corner of Monroe and Wacker and closed the area off. They soon set it on fire and the caravan of GPD vehicles and helicopters (and two rigged camera cars) from last night's shoot raced by the (highlight to read) burning shell of the fire truck (hmmm, I wonder what happened to it???)
The black camera copter followed the line of vehicles. This time the GPD helicopter had a SWAT guy hanging off the side of it and was using a spotlight to search the area around the fire truck.
Some of the people watching in the crowd got really nasty to the some of PA's and were giving them a hard time, very unfortunate since the PA's were being incredibly nice about taking pics and so forth. They shot this same sequence over and over until about 9:00pm when they stopped filming to move to another location. More to come in the following days!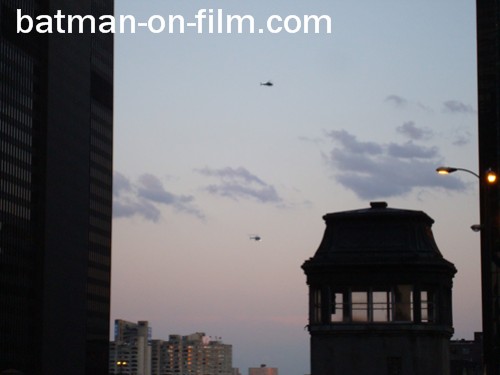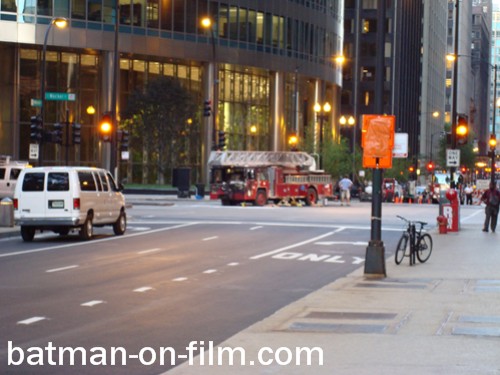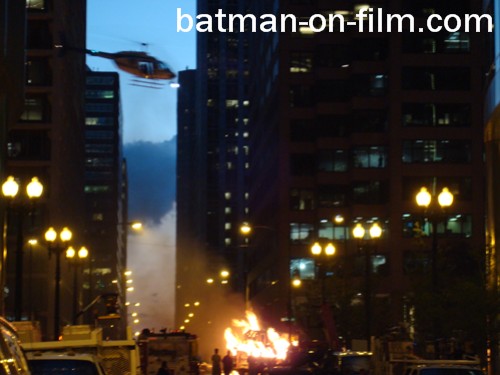 Again, thanks to "Bat-Ror" for sending in this report!