The following is a "spoiler-free" report of TDK shoot in Chicago on July 11, 2007 from "Bat-Ror"
Hey Jett! I went down to the TDK shoot on Wacker Dr. this evening (7/11) and took a few pics of the some of the action (unfortunately, they seem to be shooting this chase sequence underneath Wacker itself so it is hard to try and sneak down there for some pics -- well, not hard, impossible rather).
Around dusk they shot some aerials (with a camera mounted on a black copter) of GPD Swat and Police cars racing down Wacker Dr. along with a GPD helicopter. They did that until about 9pm and then opened the streets back up again and started setting up huge lights on Wacker. I was able to stick around for a little bit and get some shots of the same GPD police caravan going beneath Wacker Dr.
I also spotted Chris Nolan as well as Bale and Gyllenhaal (I am 99.9% sure it was them). I have included some pics of the GPD vehicles and the lighting set ups on Wacker, sorry they aren't that exciting.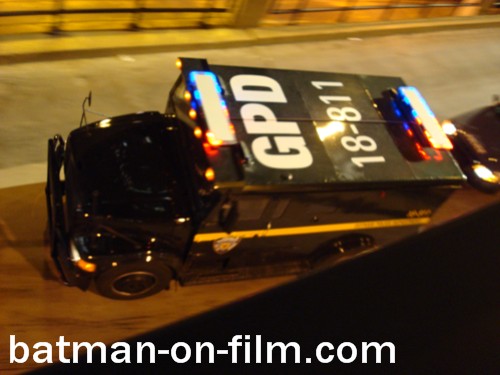 Again, thanks to "Bat-Ror" for sending in this report!