The following is a fairly "spoiler-free" report of TDK shoot in Chicago on June 27 and 29, 2007 from our insider deluxe, "A.P."
Thursday last week saw an interesting scene that took place in "dingy" bar in the Lincoln Park area.
(Highlight to read) More fun was the second scene filmed a few blocks over, still in Lincoln Park, where the TDK crew had taken over the whole quiet neighborhood block that had rows of pristine townhouses. They removed all the vehicles on the block replacing them with prop Gotham cars. Scene involved a few minor characters at a doorway of one of the townhouses and then two of them getting into an unmarked Gotham police car. The other, a women, entering her Mercedes Benz and then [Spoiler deletion - Jett]…which was magnificent! One take, thankfully, but boy what a take! The special effects guys did an incredible job. I am sure this was rehearsed somewhere else as the whole thing seemed to exact, there were no surprises....These guys are just amazing at what they do!
Lots of Chicago PD and fire department were also on hand.
There were hundreds of people in the neighborhood watching this scene and I'm very surprised no one got this on film and it hasn't surfaced on the internet.
Friday brought Christian Bale to the Gotham National Bank for a scene with Lt. Gordon. [Christian was in the] Bat suit and even the Bat-RV was there -- the mobile fridge that is used to keep Mr. Bale Cool between takes.
Other things shot that day brought lots of SWAT extras Gotham Police and forensics teams and the press corps.
Gary Oldman shot several scenes both inside [and outside ]the "bank." [The latter] was a very quick scene at dusk -- set up took longer than the actual filming of the scene.
Again, thanks to "Alfred Pennyworth" for sending in this report.
OK, the following is from "Chicago Bat":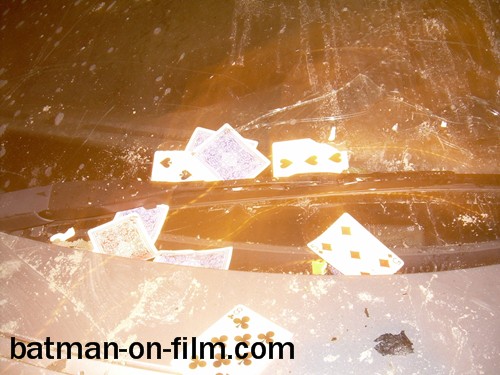 "New to the site and love it.
I was at the shoot outside my apartment last week on Hudson in Chicago (Thursday night, 6/28)....Here are some (not so great) pics I grabbed. Security said it was fine post shoot. All the crew and security were extremely friendly and cool with all of us."