CBF "Event" in NYC
Post:
Jett
Thursday, July 10, 2008
Here's a short report of the Chicago "CFB Event" from our old friend "Scarecrow 360":
"Well color me sorta disappointed. They handed out free shirts, papers, stickers, and key chains that was awful nice of them. But then they handed out a pizza box with instructions in it (which apparently the dude it was handed to read incorrectly) as we proceeded to run like MANIACS across Wacker and directly into lower Wacker. In the car chase scene of BATMAN BEGINS, just after The Tumbler jumps onto the freeway, you see it go down a ramp into Lower Wacker. This is the exact kind of ramp we ran down and we filled the entire thing from one side to the other, shoulder to shoulder, running at full speed the entire way. We continued to run north on Wower Wacker, in the oncoming lane no less, again filling it completely, about 3 more blocks until they figure out we were going the wrong way. Well we ran all the way back, up one of the ramps, and south just one block of where we started. There someone found a small CB radio and shouted the code word into it -- thereby turning on the Bat Signal projecting onto the Sears Tower. Problem is they put it on floors that were completely lit and we could barely see it (all they had to do was move it down 3 floors to hit black ventilation vents that would've made it much better. Then.... that was it. EVERYONE was standing around with an "are you F'n kidding me?" look on their face, we were expecting something just a little more, something more than 2 steps that would last longer than 10 minutes. I myself had to leave to catch my train but as I understand it others stood there for a couple hours still expecting them to throw in a little something more. The free stuff was great, but it was a little anti-climactic."
Here's an image of the crowd the "Scarecrow 360: sent with his report: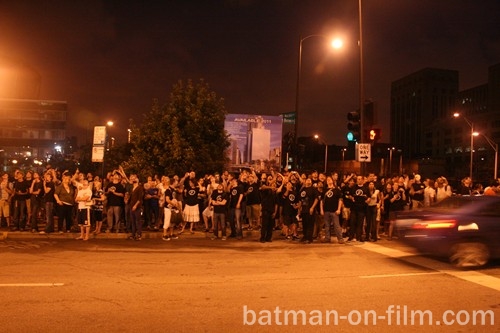 The following pics were sent in by "Andrizzle":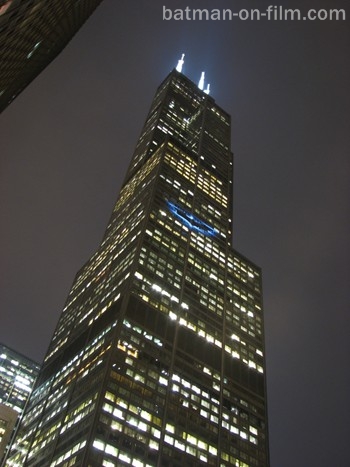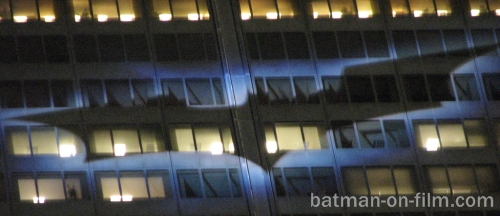 These follow pics were sent in by another Chi-Town BOF'er: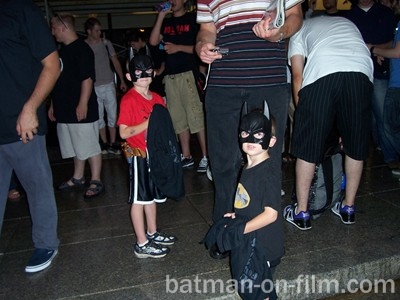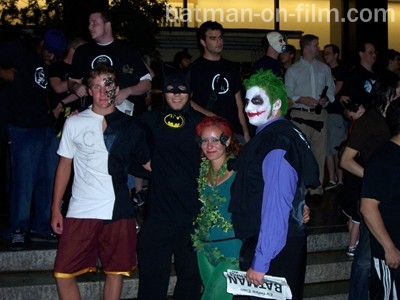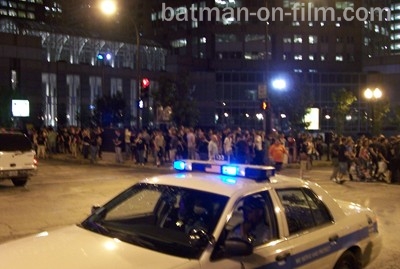 Finally, a report from "DK":
"The CFB event in Chicago mirrors the NYC description except we could hardly make out the Bat-Signal at the end of the event, if at all. I attended the event with my two sons ages 6 and 4.
Upon our 8:10 arrival, we met a group of at least sixty to seventy-five people waiting with anticipation, discussing both their expectation for the night and the new movie. Swag began to arrive soon after with the usual expected response from the youthful group as shirts, Gotham Times, pins and bumper stickers were made available. Security quickly started to attempt to remove the group from the private property and have them remain on the sidewalk. Police presence was not shown at this time.
Minutes before 9PM, the larger group of nearly 250 split in two, moving in two directions. Some Heading down to lower Wacker in a quick sprint( where all those Tumbler and Bat-Pod scenes are shot). Most jogged south of Sears Tower to a parking lot to get the now expected view of the yet unseen Bat-Signal. Here the group swelled but the view was a huge disappointment. Many waited for something to happen or some instructions. Police began to arrive, though they were only watching and guiding traffic from what I saw. We chatted some more then left at 10PM, calling it a night when it became clear that nothing remained. The group we left behind was still over 150 to 200. We were saddened by the Bat-Signal disappointment but the rest of the evening was fun for the boys. Anyway, who could complain about cool free Bat-Stuff!"
I've got a few more pics and reports that BOF will add later, FYI. - Jett