REVIEW: "The Dark Knight Trilogy Ultimate Collector's Edition"
Author: Bill "Jett" Ramey (Follow @BATMANONFILM)
September 28, 2013

"The Dark Knight Trilogy" means a lot to me…a LOT. And quite frankly, I was concerned whether or not I could review it objectively.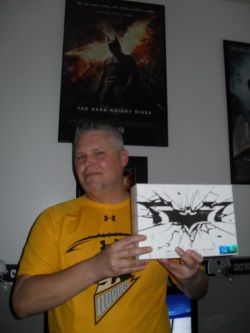 When I started BOF way back in 1998, I wasn't sure if we'd ever get another Batman movie, much less three (and counting)! And never, never ever EVER, in my wildest dreams did I imagine my little 'ol Batman website would allow me to visit the set of a Batman film, attend Batman film premieres and after-parties, sit down and interview members of the cast and crew, AND…
Meet many of my personal Batman on film heroes – Michael Uslan, Emma Thomas, and Chris Nolan to name a few – as well as having the honor of earning their respect and have them think of me as a friend.
Wow. An anecdote I feel I should share before we go any further with this review...
I got to see THE DARK KNIGHT RISES out in LA a few weeks before its July 20th, 2012 release date. So Mrs. Jett and I go out to Universal City Walk to attend the press screening for the film. To make a long story short, we see RISES – which I admit brought a few tears to my eyes – and we head over to nearby Hard Rock Café to get something to eat and drink. Once there, I turn my phone on (we had to check them in at the theater before going in the theater for the screening) to find a text from Emma Thomas that said, basically…
"By now, you've seen the film. We hope you liked it. – E"
Water fountains from my eyes ensued.
Yes, I loved the film – as well as the entire "Trilogy!" It's the very reason that I started BOF back in '98.
Hey, it's been one HELL of a fun ride over the years – I'm not going to BS y'all! But I'm also not going to BS y'all when it comes to THE DARK KNIGHT TRILOGY: ULTIMATE COLLECTOR'S EDITON.
Recently, I received a copy of it for reviewing purposes. Honestly, I would have bought this set even if I hadn't been lucky enough to get one from Warner Bros. However, it's my job to take a look at this set as a whole, and then let you all know whether or not it's worth dropping a hundred bucks – actually, you can get it for eighty – of your hard-earned cash on it.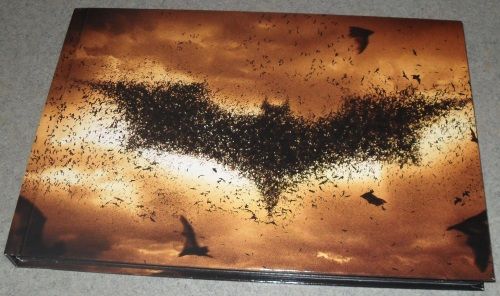 Album for the Blu-rays
It's...just...really...NOT.
If you already own the Blu-ray editions of BATMAN BEGINS, THE DARK KNIGHT, and THE DARK KNIGHT RISES, all you'll be getting by purchasing this set that you don't already have is the following:
"The Fire Rises" – A 76 minute documentary about the making of the "Trilogy." I've got to tell you all, this documentary is quite awesome. Lots of behind the scenes footage, interviews with a variety of folks (C-Nol, Emma Thomas, Jonathan Nolan, Michael Uslan, Richard Roper, Zack Snyder, and many others), as well as the screen tests of Christian Bale, Cillian Murphy (for Batman), and Anne Hathaway. Trust me, it's really good. If you're a huge fan of the "Trilogy" – like me – your eyes may get a little misty while watching it. Here's hoping that Warner Bros. will make this available by itself at some point in the future.
"Christopher Nolan and Richard Donner: A Conversation" – A 25 minute dialogue between Nolan and Dick Donner, the director of SUPERMAN: THE MOVIE. I feel this will hit home with a very specific vintage of fandom. If you were a kid when SUPERMAN: THE MOVIE hit theaters back in 1978 – like I was – you're going to absolutely LOVE this. What's really cool about it while Chris talks a lot about his Batman films, it actually comes off more like Nolan interviewing Dick Donner about S:TM! I've got to say it's a real treat to be a fly on the wall while the two most influential filmmakers in the history of superhero cinema drink coffee and chat it up about Batman and Superman!
THE DARK KNIGHT IMAX Sequences – Speaks for itself.
THE DARK KNIGHT RISES IMAX Sequences – Again, speaks for itself.
All the above "extras" are all new and come on the "Special Features" disc. So what else do you get in this set that has yet been available? Well…
Three Hot Wheels toys of The Tumbler, The Batpod, and The Bat. I'm not taking them out of their packaging, but from just an eyeball test, they look to be pretty well made. Metal, not plastic.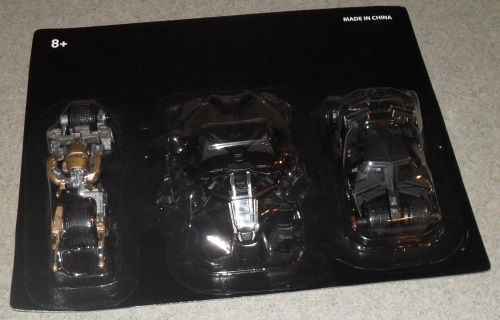 Hot Wheels Tumber, Batpod, and The Bat
A photo album that's mostly made up of publicity stills from the film. Nothing much here that we haven't seen before over the years.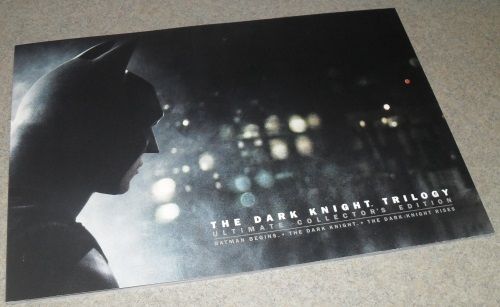 Photo Album
Mondo mini-posters of the villains from the "Trilogy." They're pretty cool-looking – probably worth framing and hanging in one's office. AND…

Mondo Mini-Posters (I'm framing 'em!)
A "letter" from Chris Nolan. Yeah, it's a form letter, but it still has a very nice and sincere message from the filmmaker to all the fans nonetheless.

This is NOT the letter from C-Nol included in the box set, FYI
"And that's all, folks!" Well, in terms of new stuff.
As far as the films themselves, I re-watched my previous Blu-rays of each, followed by a viewing of the same film from this set (that's why this review took as long as it did). I'm not Blu-ray/HD guru or anything like that, but I see no difference between the discs included in this set and the ones that were previously released. In addition, the "extras" included are the same one's we got with the previous releases.
So what's missing here? I'm sure most of you all will say – or yell – "A director's commentary for all three!" I totally understand the desire for them why many fans are disappointed that they're not included. However, I can't say that I'm personally upset as I kinda expected that Chris wouldn't do 'em. Knowing Chris a little bit, this kind of stuff just isn't his thing. If I had to guess, he probably feels doing a detailed commentary would take some of the "magic" out of the films. He believes that filmmakers are magicians; and a magician would NEVER reveal how he does his tricks – you know what I mean?
Bottom line, this is a nice set. As I said previously, I would've bought it regardless. However, I can't recommend anyone spending $100 or even $80 on it just for the new stuff – no matter how good the documentary and Nolan/Donner conversation are. If you already have the "Trilogy" on Blu-ray, I think you should stand pat for now. - Bill "Jett" Ramey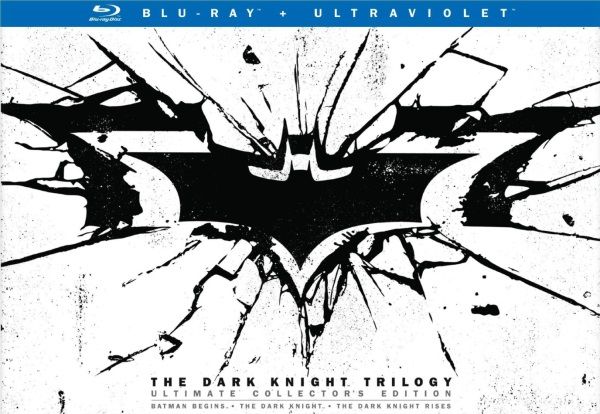 A life-long Batman fan, Bill "Jett" Ramey
is the founder of BATMAN-ON-FILM.COM.
He likes Elvis, The University of Texas,
Dallas Cowboys Football, and of course...
THE BATMAN!
He resides in the GREAT state of TEXAS with his lovely wife, three kids, and two Boston Terriers.



comments powered by