My THE DARK KNIGHT Set Visit Revisited
Author: Bill "Jett" Ramey (Follow @BATMANONFILM)
February 16, 2015

So sue me if the following tale comes off as if gloating; but really, I'm not.
Unless I am. ANYWAY…
Since this is President's Day and I don't have to work, I decided to go through some papers in my office that had accumulated over the last, well, eight-plus years, obviously. And low and behold I found THIS…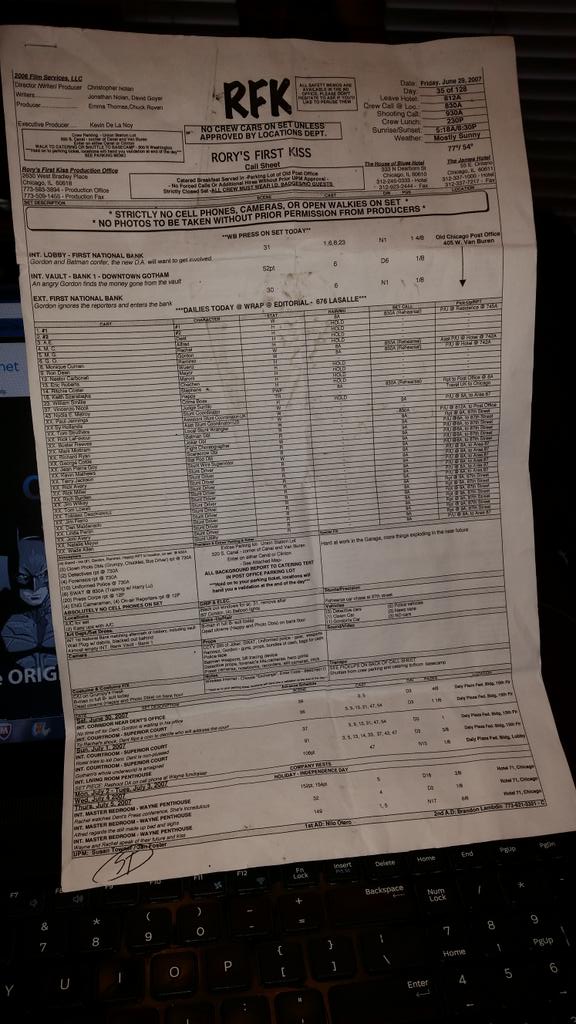 What you see in the picture above is an "RFK" call sheet from Friday, June 29, 2007. Of course, "RFK" means "Rory's First Kiss" and was the fake shooting title/codename for THE DARK KNIGHT – the greatest comic book-based film of all-time and, probably, forever and ever.
Growing up a Batman fan and being a fan of the films since 1989, I never ever thought – even after I started BOF back in 1998 – that I would visit the set of a Batman film. I missed my chance back in 2004 when I was invited to the set of "The Intimidation Game" – AKA BATMAN BEGINS. But I couldn't go due to the fact that the set visit would take place in England and I couldn't make it happen due to the fact that I do have a fulltime job other than BOF.
Bummer.
But three years later I got the call from the fine folks in Burbank, California that I was invited to travel to Chicago and visit the set of THE DARK KNIGHT.
YEA!
I know that I posted several TDK set visit articles on BOF back in 2008, but I don't think I ever talked about the "behind the scenes" stuff that I witnessed. Here's some of the cool stuff that went down that day that I still remember like it was yesterday…
The set visit took place at the "Old Post Office" on W. Van Buren St. in downtown Chicago. Upon entering the building, we were taken on a tour of the facility and I was amazed how they turned this old abandoned building into a movie set "bank." We got to walk through the "bank lobby" where the whole Joker bank robbery/TDK Prologue took place – and nothing had been changed. Shattered glass still laid strewn across the floor, police tape marked the "crime scene," and there was still a big hole in the wall where The Joker's henchmen backed the school bus into the bank.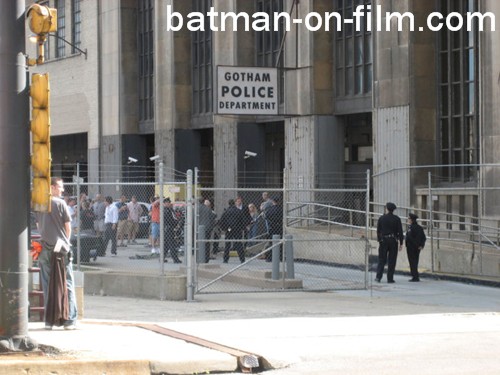 We even got to visit the bank's "vault" which would end up being the center of that day's filming. I was amazed to see that the door to the vault was actually made of wood and that they had turned an area that housed post office boxes into a bank vault for the film!
After touring the building, me and the other online journalists – and there were about 6 or 7 of us – were led to a big tent set-up that would be our base of operations for the remainder of the day. This tent had a big conference table in the center, the new Batsuit and The Joker's costume on display, as well as several publicity stills from the film – including the famous first picture of Heath Ledger as The Joker.
Speaking of Heath, the only thing I wish I had got to experience on my visit was meeting the late Mr. Ledger. He was not scheduled to work that day, thus, he wasn't on the set – but his presence was clearly felt. All three scenes we saw filmed that day revolved around his Joker. Heck, even Gary Oldman – who was in his full-on Lt. Jim Gordon persona and attire – had the following to say when we asked him to talk about Ledger's work as The Joker.
"This kid," Oldman said as he pointed to a picture of Heath as The Joker, "what he's doing with The Joker is unbelievable. He's going to blow people away."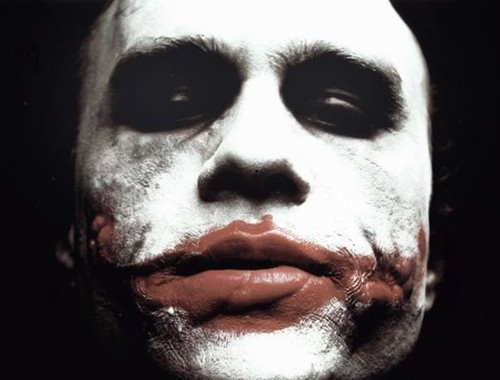 Indeed, Mr. Oldman's proclamation over a year before the film was released proved to be prophetic.
In fact, when I got to chat with Mr. Oldman during THE DARK KNIGHT press junket, I asked him if he remembered what he said about Heath a year prior. "Yes," he said with a wink, "And I was right, wasn't I!"
Word.
Through the day, we visited with various members of the cast and crew. Aaron Eckhart – who was not scheduled to work that day but came to meet the press nonetheless – proved to be a really cool dude. When asked about Two-Face eventually showing up in TDK's follow-up, he told us that, no, Two-Face would indeed be in this film – after getting the OK from the film's publicist!
Batman himself, Christian Bale, showed up after he was done filming for the day sporting military-style camouflage pants, a hoodie, and Ray-Ban aviator sunglasses. It seems that he had yet to remove the eye-black he had to wear that day as Batman. He also was carrying a book of sodoku puzzles that he told us he was currently obsessed with.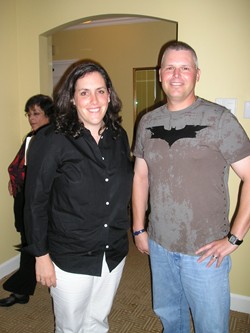 My fondest memory of the day – and I've never revealed this before on BOF – was meeting one of the film's producers Emma Thomas (and director Chris Nolan's lovely wife). I'm very proud of the respect I earned from her as well as being able to call her a friend still today. She's a great Lady (capitalized on purpose), and if she's reading this, I want to say "THANKS!" for everything. Moving on...
I had excused myself to go to the restroom inside the Old Post Office (and every time you did that, two security PA's would follow you). As I left the tent and was heading into the building, I saw Emma and noticed she was looking at me with the intent of talking. As I passed her, I said hello (I knew who she was) and she responded by saying, "Hi, you're Jett, right?"
I was flabbergasted that she knew who the hell I was.
"Yes Ma'am," I responded. She then said, "Hey, I just wanted to say we love BOF and to let you know that we won't be going to San Diego this Summer."
What she meant by "San Diego" was Comic Con International; and I had been a VERY vocal proponent of them doing some sort of TDK presentation there that year.
She went on to explain that their shooting schedule wouldn't allow for it to happen and hoped I would understand. I did – though I was a little disappointed to be honest. You got to remember that this was back in the day when the film studios having these "big" presentations at SDCC were considered a "big thing" and, quite frankly, there were A LOT of folks going that year assuming they'd be there in Hall H. So I asked her if this info was off or on the record, and she said "feel free to share it with your readers."
And so I did – and got A LOT of flak for it (go figure).
Ultimately, THE DARK KNIGHT did have a presence at SDCC '07. The legendary "Why So Serious?" viral marketing campaign was on display (see the video below) and Warner Bros. released the film's first teaser trailer as well as a promo pic you'll see below...
And I was able to capture video of TDK's viral marketing too...
As far as comic con participation goes, Chris, Emma and company did do a full panel in August of 2007 at Wizard World Chicago – which I attended thanks to a heads up from a new friend – and premiered the most extensive video of the film to that date.
When I eventually saw THE DARK KNIGHT during that Summer 2008 press junket, I was happily shocked to see that the scenes we saw filmed that day – especially one of them – were rather significant. Here's what was witnessed…
The first TDK meeting between Gordon and Batman that took place in the bank vault. That one short scene in the film took about 4 hours to film!
Gordon and Det. Ramirez walking through the bank after The Joker's heist.
Gordon and the Gotham police's S.W.A.T. team storming the bank vault after all the mob's money – sans the marked bills – had been stolen by The Joker.
And finally, in the evening, Gordon running up the steps of the "First National Bank of Gotham" surrounded by the press and after The Joker's bank robbery.
This was, no doubt about it, one of the greatest days in my Batman fan life! One day, I'll tell more about this day and more because I am writing a book! Probably. AND two more things…
Isn't it amazing how when one finds one little "something" it can jog memories...and craft services are AWESOME! - Bill "Jett" Ramey



comments powered by