In August of 2011, I traveled to Pittsburgh, PA to visit the set of
THE DARK KNIGHT RISES
.
When one goes on a "set visit," they actually go to, well, the movie's set. Such a visit could occur at a studio lot as they film on a soundstage. On the other hand, it could take place outside studio gates while the project shoots on location.
And occasionally, it could be a mix of both.
For example, when I went to the set of THE DARK KNIGHT back in June of 2007, I traveled to Chicago since most of the film was shot in The Windy City. Team Nolan took over an unused building known as "The Old Post Office" in downtown Chi-Town and turned it into a temporary soundstage. Of course, they shot A LOT of TDK right there on the streets of Chicago.
With all that said, Warner Bros. and the filmmakers kicked it up a few notches when it came to the set visit for THE DARK KNIGHT RISES. It wasn't just any old building that Team Nolan was turning into a temporary set this time, let me tell you. On the day we visited, they had turned an entire NFL football stadium into movie set!
So, on one drizzly August morning in Pittsburgh, a select few online journalists and I boarded a shuttle bus in the city's downtown and headed over to the home of the NFL's Pittsburgh Steelers, Heinz Field. There, we were able to sit the stadium's press box and watch a "football game" between the fictional Gotham Rogues and the Rapid City Monuments.
Oh yeah, during the "game," Bane and his band of mercenaries crashed the party and blew the place up! (As a lifelong Dallas Cowboys fan, I'll admit that I got a kick out of seeing the stadium "destroyed.")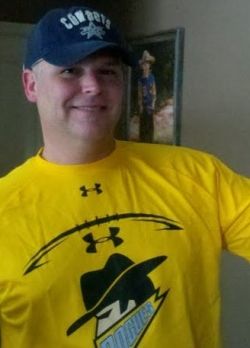 "I went to the set of THE DARK KNIGHT RISES
and all I got was this T-shirt!"
If you haven't guessed by now, this is what you would call a "teaser." I'll be able to reveal everything I saw and whom I talked during my set visit shortly, so stay tuned! OK, I'll drop a few names...
Christian Bale, Tom Hardy, Anne Hathaway, producer Emma Thomas, SFX supervisor Chris Corbould, costume designer Lindy Hemming, and others! Oh yeah, check these out...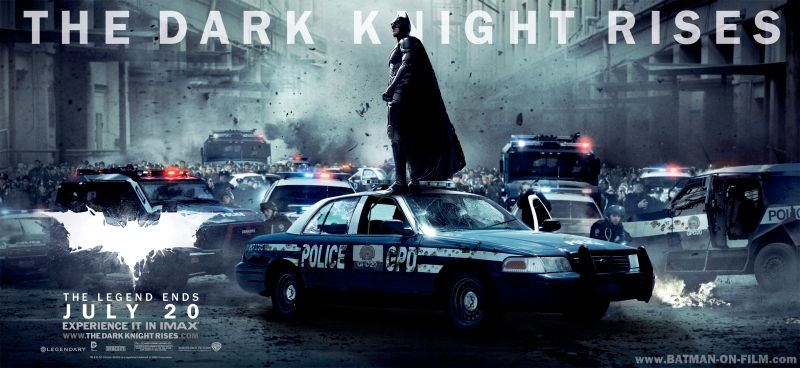 I hope that will hold you over 'til the full set visit report! (CLICK HERE or on the images above for larger versions of each.)
THE DARK KNIGHT RISES -- starring Christian Bale, Tom Hardy, Anne Hathaway, Michael Caine, Gary Oldman, Morgan Freeman, Joseph Gordon-Levitt and Marion Cotillard -- hits theaters on JULY 20, 2012!