BOF's RISES Set Visit - Tom Hardy
Author:
Bill "Jett" Ramey
May 27, 2012
Tom Hardy was the only member of the cast -- well, when it comes to "The Big 3" consisting of Christian Bale, Anne Hathaway, and Hardy -- that was working the day of the set visit. Actually, we didn't know for sure if we'd get the chance to visit with Mr. Hardy due to the fact.
After visiting with several members of the cast and crew, the Warner Bros. folks informed us that a "special guest" would soon be coming to chat with us members of the press. Shortly afterwards, Tom Hardy entered the room.
What a nice dude! Tom went around the table, shook everyone's hand, and introduced himself with "Tommy. Glad to meet you!"
Not only was he a nice dude, he was one jacked-up one as well! No CGI or special effects shenanegans were needed to make Bane one big and imposing son of a gun, trust me.
Below is our Q&A with man playing the main villain of THE DARK KNIGHT RISES, Tom Hardy.
Do you have an accent in this movie? What are you doing for the voice?
TOM HARDY: I can't say anything about him. I really can't say anything.
What's it like fighting Christian Bale? He's the "Fighter" and you are the "Warrior."
TH: I love working with Christian actually. I love working with everybody. I love working with Chris Nolan every time. Everybody in this cast is always lovely, constant professionals. There's a distinct lack of ego when you work with Chris. It's wonderful. So everybody plays to that environment which is very intimate. So it doesn't feel like such a big-- overwhelmingly big-- experience.
Can you tell us what it's like to wear the costume?
TH: Hot. It's very, very, very hot. Yeah. We're all getting very hot. It's hard to breathe [with the mask].
Can you talk a little bit about when you first put [the mask] on?
TH: (laughs) You just put it on, you know? And then it's on, and it's hard to breathe. I can't hear anyone, and no one can see me speak. So there you go. And the magic begins. (laughs)
Do you find yourself having to speak bigger with your arms or your eyes, things like that?
TH: I can't talk about magic.
Were you familiar with the character Bane? Did you go back and read up on him?
TH: I had no immediate knowledge of the world of Batman at all. I'm quite incubated. I just keep myself to myself and my dog. So it [studying up on Batman] started when I first got the part.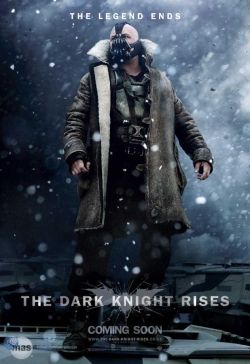 There is a brilliance to Bane in addition to the physical. Are we going to see that this is a smart guy, equal to Batman in intellect?
TH: All I can think of is you're calling me stupid. (laughs)
From the pictures, Bane looks larger than life. But in all of Nolan's films, he likes to ground it in reality. How does he go about grounding this character Bane in reality?
TH: Well, if Nolan grounds it in reality, then I'd have to follow suit, right?
Did you have any apprehension for being the guy that would follow Heath Ledger's Joker?
TH: No, I don't think absolutely. That would be putting myself in a competition with somebody who's clearly brilliant. And it's not a question of whose talent is greater or whose work is greater. It's just trying to be the best that we can be. I'm not trying to be better than somebody else. What he did was amazing. That's that. I've got a part I've got to play, and I want to play my part.
Can you talk about what you're filming today?
TH: I'm going to talk to [a football stadium full of] people. I'm a bit nervous. (laughs) Doing my warm-up with you guys! (laughs)
THE BOF RISES SET VISIT PART 2 IS COMING SOON!
THE DARK KNIGHT RISES -- starring Christian Bale, Tom Hardy, Anne Hathaway, Michael Caine, Gary Oldman, Morgan Freeman, Joseph Gordon-Levitt and Marion Cotillard -- hits theaters on JULY 20, 2012!