I truly believe that Christian Bale would play Batman forever.
Of course, there's a caveat to that statement, so let me try again.
I truly believe that Christian Bale would play Batman forever...as long as Christopher Nolan would be directing.
But that ain't happening, thus THE DARK KNIGHT RISES is the Welsh thespian's last turn as The Caped Crusader. Here's what Mr. Bale had to say about the final time he wore the iconic Bat-Suit…
"We wrapped, and we were doing a scene, it was with Anne as Catwoman on a roof in Manhattan. And I just went down and sat in a room and I realized this is IT. I'm not going be taking this cowl off again. So I said 'Can you please leave me alone for 20 minutes?' and sat with that moment. It was the realization of...of real pride of having achieved what we had set out to. It was a very important moment for me, it's been a very important character and the movies themselves have changed my life and changed my career. So I wanted to just appreciate that."
Here's more of Christian Bale from that press conference for THE DARK KNIGHT RISES…
Did he realize he was the first Oscar winner to play a comic book superhero?"
"Clearly not." (crowed erupts with laughter)
On Chris Nolan bringing Batman back to his roots in the DARK KNIGHT TRILOGY.
"Correct me if I'm wrong, my understanding is that Bob Kane created this character in 1939, which being from England, right, that was beginning of WWII. And it was an answer to the uselessness that individuals felt against this humongous tragedy, and what could you do? So it was topical in its inception, that's how Batman began...it began as a very topical character, and I think Chris returned it to that."
On the fight scenes with Tom Hardy's Bane.
"The thing I liked so much about the fight sequences with [Bane] is they're never just knock-down fight sequences. [Bane is] the first adversary of Batman's that you know could probably whip his butt. You learn something more about each character throughout each fight, which is the mark of a good fight. You learn about what Batman has had to go through from the beginning of the movie to the end in order to be able to defeat this man. And you're learning about Bane as well, and the changes that have come over him. And that's always essential in any fight. That's really what you're looking for. We've seen so many people punching each other non-stop, who cares? You're looking for 'What are the changes? What are the weaknesses? What are the strengths of each character that are going to allow them to dominate one or the other?'"
On the very first time he ever put on the Bat-Suit,
The first time I ever put on the [cowl] I thought, 'Chris has to re-cast!' The claustrophobia was just unbelievable. I stood there and I thought, 'I can't breathe…I can't think…This is too tight…This is squeezing my head…I'm going to panic…I'm about to have a nervous breakdown…I'm going to have a panic attack right this second!' So I just stood there and I thought, 'I would really like to make this movie and be able to get through this.' So I asked for 20 minutes to myself and I just stood there. Then I called everyone back in and said, 'OK, just talk very calmly please and maybe I can get through this!'"
20 minutes to say hello and 20 minutes to say goodbye to The Batman.
Methinks, however, that it's really going to take him longer than 20 minutes to say goodbye to the character that he would have played forever. - Bill "Jett" Ramey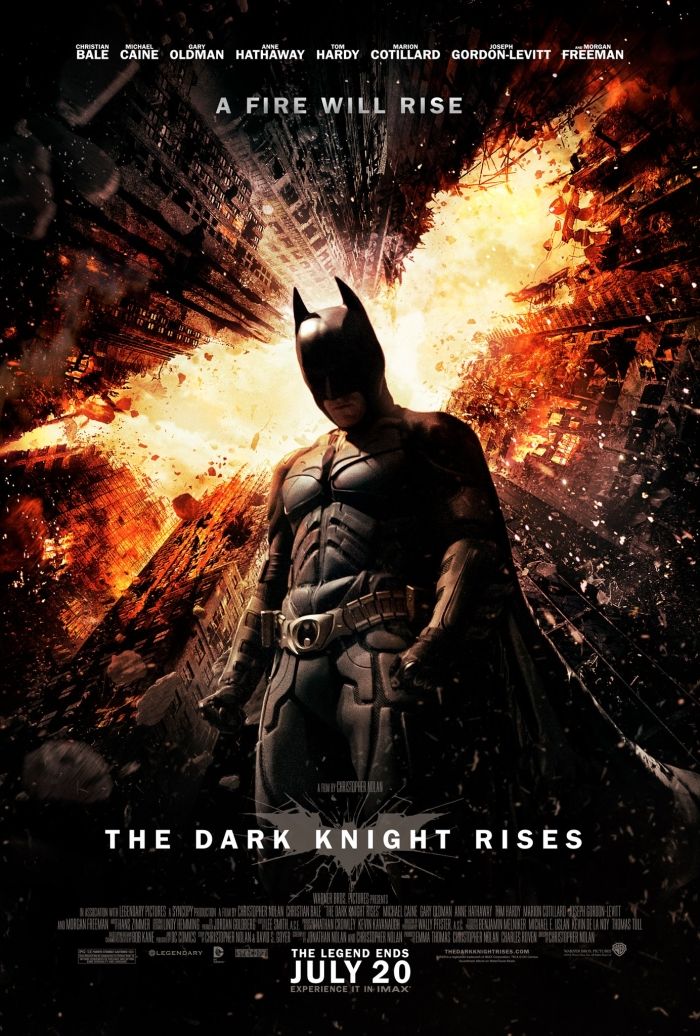 THE DARK KNIGHT RISES -- starring Christian Bale, Tom Hardy, Anne Hathaway, Michael Caine, Gary Oldman, Morgan Freeman, Joseph Gordon-Levitt and Marion Cotillard -- hits theaters on JULY 20, 2012!