In the recent issue of
ENTERTAINMENT WEEKLY
, director Chris Nolan addressed the nonsense -- and yes, it IS nonsense -- over Bane's voice...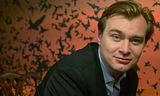 "I think when people see the film, things will come into focus," said C-Nol. "Bane is very complex and very interesting. And when people see the finished film, people will be very entertained by him."
Indeed.
And Chris' brother -- RISES screenwriter Jonathan Nolan -- also chimed in on the matter at a recent Television Critics Association event...
"I've gotta tell you, I think what Tom Hardy is doing with the role is spectacular. I've had the benefit of seeing a little bit more than the audience has seen, at this point, and it's pretty spectacular."
Exactly. People are complaining over something and they've only seen a pee in the ocean of Bane onscreen -- and many of the folks bitching haven't even seen the PROLOGUE!
After BATMAN BEGINS and THE DARK KNIGHT, I think Team Nolan -- and this director specifically -- have earned the benefit of the doubt and this guy has shown us that he totally knows what he's doing.
THE DARK KNIGHT RISES -- starring Christian Bale, Tom Hardy, Anne Hathaway, Michael Caine, Gary Oldman, Morgan Freeman, Joseph Gordon-Levitt and Marion Cotillard -- hits theaters next Summer on JULY 20, 2012!