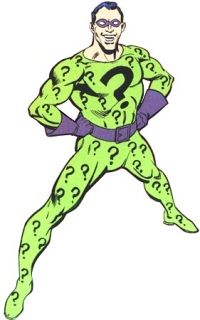 Sheesh!
According to EMPIRE's recent feature on THE DARK KNIGHT RISES, writer David Goyer said that Warner Bros.' choice for the villain of BATMAN 3 was The Riddler. And they wanted Leonardo DiCaprio to play him! Check out this quote from Goyer...
"Obviously itís gonna be The Riddler,
and we want it to be Leonardo DiCaprio."
Ha!
Not that that's an insane idea, but that certainly tells me why there was so much speculation about The Riddler being the "next villain" after THE DARK KNIGHT was released. Was someone at Warner Bros. floating Riddler rumors back in late '08 and '09? I wouldn't doubt it.
Regardless, Nolan had enough clout to choose whom HE wanted and not whom the studio wanted. Thank goodness!
THE DARK KNIGHT RISES -- starring Christian Bale, Tom Hardy, Anne Hathaway, Michael Caine, Gary Oldman, Morgan Freeman, Joseph Gordon-Levitt and Marion Cotillard -- hits theaters on JULY 20, 2012!