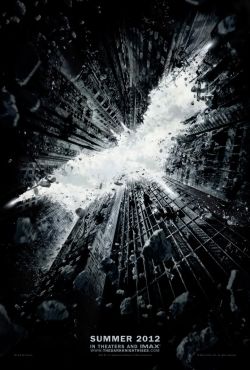 Last week, I was invited to attend a very special screening of
THE DARK KNIGHT RISES PROLOGUE
out in Hollywood. With
RISES
being the final film in director Chris Nolan's Bat-Trilogy, there was no way in hell that I was going to miss out on this opportunity!
I'm sure some people would say, "Dude, you dropped some major coin to fly out to LA simply to watch 6 minutes of a movie?!" My response: "You bet your ass I did and it was worth every damn penny!" Anyway…
The screening took place at the IMAX theater at Universal Citywalk in Hollywood and was hosted by Warner Bros., director Chris Nolan, screenwriter Jonathan Nolan, and producers Emma Thomas and Charles Roven. It was attended by about 100 or so journalists and little 'ol me from BOF. After a short introduction by Mr. Nolan, the lights shut off and we were all treated to the first 6 minutes of THE DARK KNIGHT RISES as well as a short preview featuring a few clips from the film.
So what did I think about it? IT WAS F'N BADASS!
If anyone was worried that Team Nolan was just making another Batman film just for the sake of making it, I guarantee you thoughts like that will be wiped out after seeing The Prologue. Speaking of which, I totally get why Chris and co. want it to be seen in the proper IMAX format. I HIGHLY recommend that you do what you have to do to see it in IMAX -- if not now, then when the whole film is released this coming July. Also, I'd avoid any and all online descriptions by fans that will surely hit the Net next week once it's released with MISSION IMPOSSIBLE: GHOST PROTOCOL, as well as crappy cell phone-filmed bootlegs. Trust me, you'll totally miss out on the coolness of seeing it as Nolan intends for it to be seen if you cave in.
Afterwards, the was a cocktail reception for the press that was also attended by the filmmakers. I had the chance to visit with Emma Thomas, Jonathan Nolan, and the man himself, Chris Nolan. I thanked all of them for giving us these great Bat-Films and admitted that RISES will be bittersweet as they're Batman on film run will come to an end. I asked all three of them whether or not they are going to miss Batman once RISES has come and gone, and all said that they would. Jonathan made a good point telling me that someone else will come along with an inspired take on Batman and will gives all of us fans -- him included -- more great Batman films. While visiting with Chris, it was obvious to me that he was tremendously proud of The Prologue and THE DARK KNIGHT RISES itself. That makes me feel good as I know we've got something special in store come July.
Oh yeah, Emma told me that a new trailer will be also be released next week and that it's "awesome."
I must make note of the fact that Chris is very passionate about IMAX -- which he says is "far and away the best imaging format created." He's old school and laments the fact that we -- film fans -- don't experience movies like we once did back in the day. He also encouraged us to encourage you all to try like hell (my words, not Chris') to see THE DARK KNIGHT RISES in IMAX when it's released next Summer. And after seeing just 6 minutes of it last night, I totally agree with him and understand why he wants it seen that way.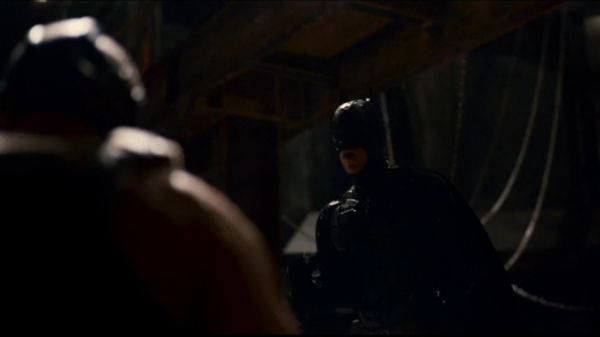 If you were expecting a detailed, blow by blow description of The Prologue, you won't find it here. We were asked by Warner Bros. and the filmmakers not to do so as they really want folks to see it fresh just as we did last night. I will say that it's a breathtakingly badass action sequence that introduces Bane (Tom Hardy) to the audience. As far as that montage of RISES clips at the end, it gives a quick look at Batman (Christian Bale) and some of his new toys, Catwoman (Anne Hathaway), and Joseph Gordon-Levitt's "John Blake."
I also have to give MAJOR props to Chris Corbould, Wally Pfister and their teams. These folks were totally on top of their game!
In closing, all I can not wait to see the final product this coming Summer! Also, with The Prologue and new trailer coming out -- as well as the viral campaign that just kicked off -- makes sure you take all of this in over the next few months and savor it as I don't know IF and WHEN we'll get to experience this again.