Via
ROLLING STONE
, here's a couple of quotes from director Chris Nolan on Bane's (who is played by Tom Hardy) cotume in
THE DARK KNIGHT RISES
...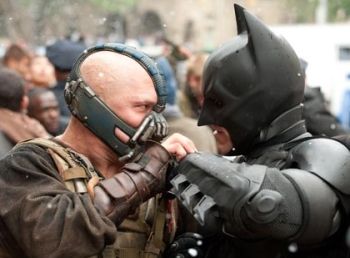 * "Bane dresses in a military fashion. He leads a band of fanatical mercenaries who have done all kinds of horrible things and end up in Gotham. One of the influences on the script was Dickens' A TALE OF TWO CITIES and with this overcoat we wanted to infuse the romanticism of the French Revolution mixed with World War II functionality. The essence of Bane is military power and brute force combined with revolutionary fervor...He's always ready to fight."
* (On Bane's mask) "[He uses the mask to keep his severe pain from a lifelong affliction] just below the threshold so he can function."
THE DARK KNIGHT RISES -- starring Christian Bale, Tom Hardy, Anne Hathaway, Michael Caine, Gary Oldman, Morgan Freeman, Joseph Gordon-Levitt and Marion Cotillard -- hits theaters on JULY 20, 2012!