The new footage screened at the MTV Movie Awards last night made one thing clear: Bane is one, bad, Bad, BAD dude. And like he always does, director Chris Nolan gave us a look at some very cool stuff that reveals absolutely nothing about the film! The other thing I got out of this preview is that they -- C-Nol, David Goyer, Jonathan Nolan, and Anne Hathway -- have totally nailed Selina Kyle/Catwoman. Of course, the footage has shown up -- illegally -- online. It will not be posted here on BOF unless it's offically released. However, I can post the following clip via
MTV.COM
featuring Gary Oldman, Joseph Gordon-Levitt, and The Batman himself, Christian Bale...
And another video of director Chris Nolan introducing the new exclusive footage screened last night...
Wow. Well said chaps! Moving on...
2 more RISES TV spots…
In other RISES news, AMC Theaters have revealed that they'll be hosting a Batman movie marathon on July 19th with BATMAN BEGINS and THE DARK KNIGHT leading up to the midnight screening of THE DARK KNIGHT RISES on July 20th. Tickets go on sale June 11th at 11 AM Central/12 PM ET.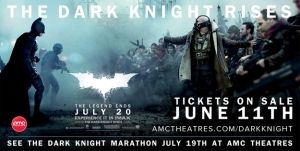 Also revealed by AMC is the running time for THE DARK KNIGHT RISES. Looks like it's clocking in at 2 hours and 45 minutes!
THE DARK KNIGHT RISES -- starring Christian Bale, Tom Hardy, Anne Hathaway, Michael Caine, Gary Oldman, Morgan Freeman, Joseph Gordon-Levitt and Marion Cotillard -- hits theaters on JULY 20, 2012!