UPDATE!
I updated this story because I first reported it incorrectly. Mr. Goyer and Mr. Nolan DID NOT come up with the way they wanted to end their trilogy pre-
BATMAN BEGINS
. Actually, that epiphany came post-
THE DARK KNIGHT
when they first began discussing
maybe
doing a third film.
Mr. Goyer and Mr. Jonathan Nolan -- Chris' brother and screenwriter for both TDK and RISES -- have consistently said that they've had to go to Chris, make a pitch, and convince him to do another Batman film.
Did Chris Nolan always envision their Batman on film story as trilogy? The evidence says yes. However, this is not a situation where the entire storyline for three films was laid out in advance.
And THAT is the great thing about Chris Nolan's Batman films. After BEGINS, the next two were created retroactively and not proactively -- you know what I mean?
Brilliant. Now on with the original story...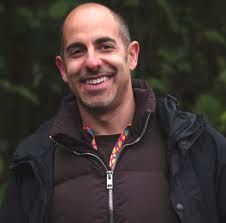 For some reason, David Goyer seems to get a lot of you-know-what from a small segment of fans when it comes to his work on BATMAN BEGINS, THE DARK KNIGHT, and THE DARK KNIGHT RISES. You know what? Goyer is the unsung hero of these films quite frankly. Without him, I don't know if we'd have gotten BATMAN BEGINS much less two sequels. Anyway...
Here's a quote from Mr. Goyer on the ending to THE DARK KNIGHT RISES via EMPIRE...
"The final scene of THE DARK KNIGHT RISES is exactly [the] scene we talked about [when Christopher Nolan and I started discussing a third film]. It remained completely unchanged. We both knew in our hearts that we were onto something special. I have to tell you, having finally seen everything strung together a little while ago and seeing that scene, I got a complete lump in my throat."
Wow. The ending of THE DARK KNIGHT brought a tear to my eye, so I figure I might be balling like a baby at the end of RISES!
THE DARK KNIGHT RISES -- starring Christian Bale, Tom Hardy, Anne Hathaway, Michael Caine, Gary Oldman, Morgan Freeman, Joseph Gordon-Levitt and Marion Cotillard -- hits theaters on JULY 20, 2012!