Batman and Catwoman -- Christian Bale and Selina Kyle -- are on the cover of
ENTERTAINMENT WEEKLY's Summer Preview
. Check it out...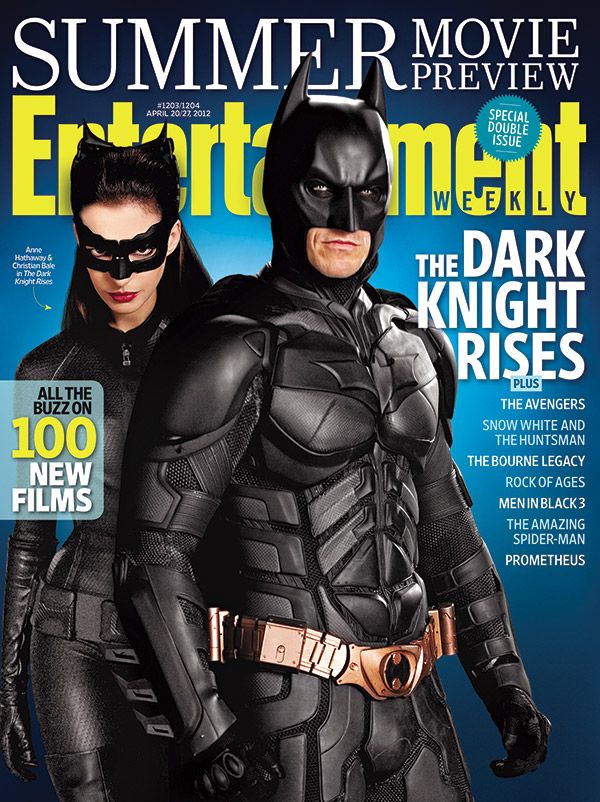 Here's a few blurbs...
* Nolan on Bane: "He represents formidable physical strength, combined with absolute evil of intention."
* Hardy on Bane's voice: "It's a risk, because we could be laughed at -- or it could be very fresh and exciting. The audience mustn't be too concerned about the mumbly voice...as the film progresses, I think you'll be able to tune to its setting."
* Nolan on Catwoman: "She has a very strong way of protecting herself and those she cares about, which implies an underlying darkness."
* Anne Hathaway on Catwoman: "I had to physically transform. Chris sat me down at the beginning and said, 'Joseph Gordon-Levitt did all of his own fighting in Inception. That one zero-gravity fight? He trained for two months.' I basically left his office and went to the gym and just came out about five minutes ago."
THE DARK KNIGHT RISES -- starring Christian Bale, Tom Hardy, Anne Hathaway, Michael Caine, Gary Oldman, Morgan Freeman, Joseph Gordon-Levitt and Marion Cotillard -- hits theaters on JULY 20, 2012!