The publicity folks at
ENTERTAINMENT WEEKLY
alerted BOF to the fact that their
RISES
set visit will be in the upcoming issue. Also, the great Christian Bale -- in full Dark Knight regalia -- is featured on the cover...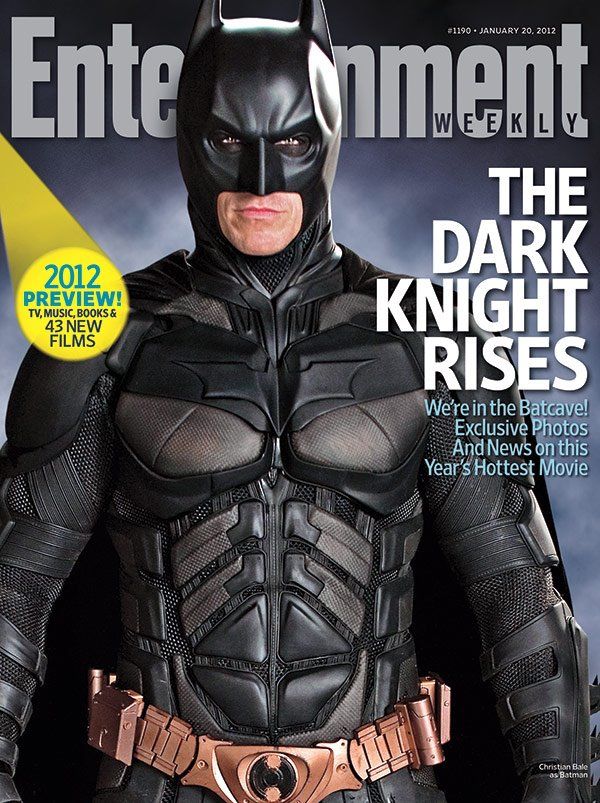 And here's a blurb about RISES from the dude you see above...
* "I can tell you the truth because Iím done with it: I felt immense pressure. And I think itís a good pressure, because you owe it to the films -- and the peopleís expectations -- to make great work."
* "My last day in the suit was also the last day of shooting for me. I was in New York, on top of a downtown skyscraper. The day began with Morgan Freeman and ended with Anne Hathaway. I got to say goodbye from within the bat-cowl. It was very quiet, just a couple people there. But in the midst of it I said ĎHold on a sec. Let me take a moment. This is it. Iím never going to have claustrophobia again!í So I had to pause. I had to."
And one cool quote from Chris Nolan one the film's plot...
* "If Batmanís plan was to stamp out crime, the new movie asks: What if the plan actually worked? The movie deals with the idea that if youíve papered over the cracks, then youíre just solving problems in a way that may not hold for the future."
Cool! Best look we've got of the suit so far and it looks as if nothing has changed -- except the neck area doesn't look as thin as it did in THE DARK KNIGHT. For more, click on the link above or pick up the latest issue of EW at your local, well, wherever you can buy magazines now.
UPDATE! CLICK HERE for 3 new RISES imges that are featured in this issue of EW.
THE DARK KNIGHT RISES -- starring Christian Bale, Tom Hardy, Anne Hathaway, Michael Caine, Gary Oldman, Morgan Freeman, Joseph Gordon-Levitt and Marion Cotillard -- hits theaters next Summer on JULY 20, 2012!