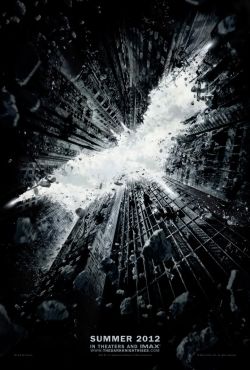 Alright folks, we're basically down to 2 months 'til
THE DARK KNIGHT RISES
hits theaters. Before the production really got rolling, I implored everyone to enjoy the
RISES
ride because it was the final film of Team Nolan's Dark Knight saga. While we all know that Batman on film isn't ending with
RISES
, we have no idea how long the wait will be before The Caped Crusader returns to the big screen. Remember, there was an 8 year gap between
BATMAN AND ROBIN
and
BATMAN BEGINS
. SO…
Have y'all enjoyed the ride like I suggested? If you're reading this, I'm sure you have -- though I hope you didn't spoil yourself at the same time!
If you think back a year, year and a half, you may be surprised exactly how much of the RISES experience has already passed us by. Casting announcements, the film's title, the release date, filming, all 3 trailers and a couple of posters have all come and gone. But while we're almost there, there's still a few more things left for us to enjoy before the ride has complete come to an end; SUCH AS…
MORE POSTERS - We've only had two released so far, so expect a few more. Of those, I figure we'll get one that focuses on the 3 main characters: Batman, Catwoman, and Bane.
TV SPOTS - They're getting to be as popular as trailers. Well, almost. Anyway, they'll be posted online for us all to watch over and over just like trailers.
MERCHANDISE - The onslaught of T-shirts, hats, toys, statues, books, etc., etc., etc. has already began.
TALK SHOW CIRCUIT - I'm sure several members of the cast will be chatting it up with Letterman and the rest come July.
SET VISIT REPORTS - The select few media outlets that were invited to the set of THE DARK KNIGHT have been sitting on their reports for a while and all will be able to reveal them soon.
CONTESTS AND GIVEAWAYS - Cool RISES swag will be given away in conjunction with the film, so be on the lookout for the various sweepstakes -- including here on BOF -- for your chance to snag some of that loot!
RISES PRESS JUNKET - A few weeks prior to the film's release, the cast, crew, and the press will converge, likely in the Los Angeles area, for early screenings of RISES and interviews. Out of this will come the first reviews of the film as well as new interviews with the aforementioned cast and crew.
Like I said, while the lead up to THE DARK KNIGHT RISES is almost over, it's still not over. Enjoy the next 2 months!
Oh yeah, a word of warning. The closer we get to the film's release, the more likely that spoilers -- some major -- can leak. Therefore, heads up!
THE DARK KNIGHT RISES -- starring Christian Bale, Tom Hardy, Anne Hathaway, Michael Caine, Gary Oldman, Morgan Freeman, Joseph Gordon-Levitt and Marion Cotillard -- hits theaters on JULY 20, 2012!