BOF has allowed me to do A LOT of cool stuff over the years -- more on ALL that stuff later, so STAY TUNED! Anyway...
I'm MOST proud of the fact that I was able to earn the respect of many folks who worked on "THE DARK KNIGHT TRILOGY." One of them is the great – and Oscar winner – Chris Corbould. This is the cat who is responsible for – along with his team – making director Chris Nolan's "crazy" Batman on film ideas actually happen!
In this EXCLUSIVE interview, Mr. Corbould talks about his fantastic work on THE DARK KNIGHT RISES as well as the two previous Bat-Films. For BOF's full coverage of THE DARK KNIGHT RISES -- which includes the set visit, premiere, press junket, cast and crew interviews, revies and more -- click on the image below.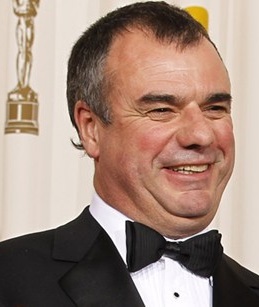 First of all, I just wanted to say you and your team's work on RISES was fantastic! Well done my friend!
CHRIS CORBOULD: Thanks Bill, glad you enjoyed it!
I would like to congratulate my crew as well, I am very, very proud of their ingenuity, dedication and loyalty throughout the trilogy. On THE DARK KNIGHT RISES, I had teams in London, Pittsburg, New York and Los Angeles. Scott Fisher played a huge role as head of the US crew and it was wonderful to see my UK crew working in complete unison alongside Scott's crew on major action sequences.
I'm sure you've seen RISES by now. I shot you an email after I saw THE PROLOUGE in Los Angeles back in December of '11 and said it blew me away. But your response – "That is only the appetizer, what 'til you taste the main course!" blew me away as well! Did you know RISES was going to be as epic as it was while shooting it?
CC: Every Chris Nolan film takes on epic proportions when you embark on them and demands that all the heads of departments rise to the challenge. RISES was no exception – and in some ways took it to a new level. I think one of the most crucial decisions was to shoot in New York which suddenly made Gotham City into a much more epic setting as opposed to the intimacy of Chicago. Even though permissions were sometimes challenging to get, Chris was adamant that New York was the Gotham City for RISES.
Chris also decided to use every toy in the box! Changing the four Batmobiles into four different types of attack Tumblers, pairing Catwoman with The Batpod, and the introduction of The Bat.
Chris – with Nathan Crowley – also decided to rebuild The Batcave on a much grander scale with monolithic rising podiums and landing platforms for The Bat.
Each set piece was scrutinized to ensure that it was taken to the next level.
OK, tell us about that badass opening sequence with the planes – "The RISES Prologue." Pardon my language, but that sh*t was AWESOMELY EPIC!
CC: In one of my early meetings with Chris [Nolan], we watched two aerial sequences, one dating back to the 1970's, and the other just a few years old. Both films showed performers falling from planes. The 1970's film involved 70+ parachute jumps with stunt performers fighting as they plummeted towards the ground and stealing parachutes from each other. The modern film involved mainly green screen work with the main actor. The sequence in the 1970's film had you on the edge of your seat – even though you could clearly see they were stuntmen with wigs on and hidden parachutes underneath their costumes…the descent was spine chilling. The modern film had much less impact. This diagnosis by Chris formed the basis for the RISES PROLOGUE where he wanted real people coming out the back of a C130 and real people on the wings of a Bandierante plane as it flew and dangled vertically. We suspended real fuselages underneath a Super Puma heavy lift helicopter and released them to fall from 3000 ft and hit the ground in beautiful Scottish countryside near Inverness.
The interior shots with Bane involved us fabricating an oversize fuselage and cockpit which had the ability to be horizontal one minute but on the press of a button and extension of hydraulic rams, suddenly would majestically change attitude to vertical.
Clever work by the Paul Franklin and his CGI team blended all these elements together creating backgrounds, adding plane parts and removing others to give the final result.
The Bat. What a great concept and addition TRILOGY's Bat-Vehicle legacy! Tell us a bit about it.
CC: When Chris first mentioned [such a vehicle], I had some reservations. Obviously, I could not build a real flying machine and was worried that Chris's love for in-camera effects would be severely compromised. However, I was pleasantly surprised when we started to discuss the rigs that we were going to build to shoot The Bat in camera.
First of all we made two complete Bats – based on a plastic model designed by Chris and Nathan. One version was lightweight and the other was heavier incorporating hydraulics and pneumatics to operate the flaps and moving parts.
Meanwhile Scott Fisher and his US crew built a road vehicle on which we could mount The Bat and travel through the streets of the US at speeds of 60 mph tilting and banking it as it cornered. This was particularly thrilling in the tight streets of Pittsburg.
The Bat was operated by three technicians travelling with the vehicle – one driving, one operating the 12ft rise/fall, and one operating the banking left to right and tilt forward. Operators in support vehicles using radio control moved the flaps, fired the guns and operated the animatronic Batman in the cockpit. One unlucky road sign in Pittsburg did feel the brunt of The Bat! (laughs)
We also travelled The Bat on overhead cables supported between two cranes where you see it first exit the alleyway over the police. The craziest thing we did was suspend it under a heavy lift helicopter on top of a Los Angeles high-rise where it took off and flew away over the rooftops!
New York provided a different sort of challenge as Chris wanted The Bat on top of a skyscraper and the only access was the service elevator. Therefore we cut the 30' by 18' by 12' Bat into sections that could go in the elevator and then reassembled them at the top of the skyscraper.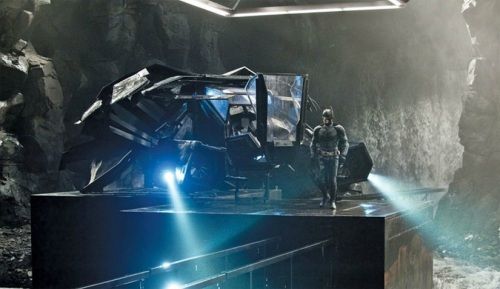 The Batman exits "The Bat" in THE DARK KNIGHT RISES
The other major action scene was during the finale – The Batman's and his "team" trying to prevent Talia and the League of Shadows from blowing Gotham to hell – was awesome as well. Tell us about it please!
CC: The end sequence involved three Tumblers armed with rockets and missiles, Catwoman on The Batpod, a goliath of a truck, and The Bat travelling at speed around the narrow streets of Pittsburgh and sections of downtown LA.
One complicated effect was when The Bat forces the truck to swerve and plummet down from an overhead street to the road underneath. The truck was connected to a steel track fixed to the road above so there was no way it could deviate from its course. The roadway beneath was covered with steel plate to spread the load of the impact. When cameras were rolling, another truck of the same size towed the crash truck up to speed before it dropped through the gap and crashed onto the street below. A very satisfying effect followed by much back slapping!
As you know, all The Tumblers met sticky ends, either by being cannoned over amid balls of flame or shattering a glass frontage of a building!
Catwoman driving The Batpod created an interesting problem in that our normal Batpod rider – John Pierre Goy – did not quite have the same bodily shape as the slender Anne Hathaway (laughs), therefore the quest was on for a female rider. The stunt coordinator – Tom Struthers – scoured the world and finally found Jolene Van Vugt, an accomplished female stunt rider. Jolene came to the UK and after a week practicing on The Batpod, became only the second person ever to ride it. We decided to give Jolene more chance to excel and remade large parts of The Batpod in lighter alloy materials instead of the original steel.
I think that Chris and Nathan are probably better filmmakers than motorbike designers, but their naivety certainly created an unorthodox machine which Chris, incidentally, refused to ever have referred to as a bike. I certainly wouldn't like to travel from east coast to west on it! (laughs)
OK, hopefully you can finally answer this question (laughs)! When we chatted about THE DARK KNIGHT back in '08, I asked you if there was a vehicle that you were keen on bringing to life in the next film. You – quite respectfully – declined to answer that at the time. I asked you again in '11 when I visited the set of RISES in Pittsburgh and you still were coy with your answer (laughs)! If you can, will you finally reveal exactly what that vehicle would have been?
CC: (laughs) I was badgering Chris to make it a Batboat based on a Formula 1 single-seater lake racer! It would have made a great Batman vehicle and would have looked spectacular flying around the Chicago/New York waterways. Never mind, maybe another film. I do love working with boats and water!
Out of your three Batman films – the TRILOGY – what was your favorite scene that you and your team were personally involved in creating?
CC: I think that the hospital explosion in TDK was one of our most spectacular moments. It brought together the magical performance of Heath Ledger, the expertise of Doug Loiseaux (Controlled Demolition) and my UK and Chicago Special Effects teams. It was obviously a one off shot that had to be achieved in a two hour time slot due to the trains running immediately behind the building. The original concept through the preparation period and onto the final filming was truly exhilarating.
I was also very proud of the semi-truck flip in TDK, The Batmobile/Tumber, The Batpod, The Bat, The Batcave and, well, much more!
Chris, you've worked with Mr. Nolan four time now, right? How did the experience change – if it did at all -- from BATMAN BEGINS with Chris to RISES? And I'm sure you'd definitely be keen to work with Chris and Emma [Thomas] again?
CC: It was a unique experience starting with BATMAN BEGINS.
Chris had not really filmed an action film before and I was worried that his omission of the customary 2nd unit might compromise the final results. How wrong I was (laughs)!
When Chris shot the action, he knew exactly what he wanted and therefore, very little ended up on the cutting room floor – which ultimately proved more economic. Chris has never done reshoots and always comes in on budget and schedule. He is a studio's dream director. He also has a great ally in Wally Pfister – who not only has a great vision, but is also like a whirlwind when he lighting and operating
On THE DARK KNIGHT, I noticed a marked change in Chris where he had obviously analyzed his experience on BATMAN BEGINS and decided to ramp everything up and especially the action. On BEGINS, Chris was quite frugal with his use of large explosions, but on TDK, he went totally the other way culminating in some of the largest in my career. He had also discovered that his creative crew needed to be challenged to get the best results. A classic example of this was the semi-truck flip which I initially had reservations about, but which he firmly believed could be achieved.
RISES was the culmination of all his experiences where no stone was left unturned…the actors, the vehicles, the locations and all the action created a roller coaster ride!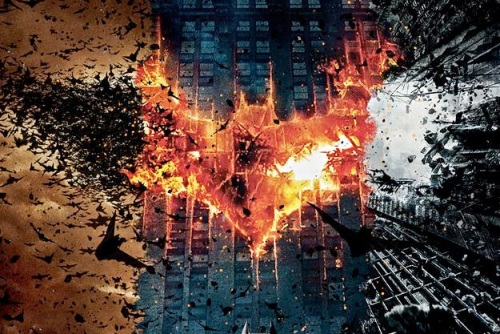 "The Dark Knight Trilogy" - BATMAN BEGINS/THE DARK KNIGHT/THE DARK KNIGHT RISES
Unless you work on the inevitable cinematic Batman reboot, your time with Batman on film may have come to an end. What did you take away from working on these 3 films in terms of being involved with such an iconic character? And I've got to ask you, will you miss The Batman?
CC: It was a thrilling journey with some amazingly talented individuals and crews. That includes the unsung heroes of the construction departments, electrical departments, camera crews etc etc. They gave me the opportunity to work in Los Angeles, Chicago, Pittsburg and New York. These Batman films – THE DARK KNIGHT TRILOGY – will will have a very special place in my heart that will be difficult to replicate. They gave my crew and myself the opportunity to explore and showcase our craft.
In addition to SKYFALL – which I've seen and LOVED – what's on the horizon for you and your guys work-wise?
CC: On SKYFALL, I was lucky enough to be given some action unit directing by Sam Mendes and found it truly exhilarating! So, I am looking for some openings where I can combine this with Special Effects. I have nothing definite yet but it only takes one phone call and I have normally signed up to a project without knowing it. One big problem is that Chris Nolan doesn't use a 2nd Unit but maybe I can change his mind! (laughs)
Chris, thanks so much for your support of BOF over the years. I'm honored to have earned your respect and hope to talk to you many more times when it comes to your work on film in the future! The floor is yours my friend…feel free to plug anything and give accolades to anyone you see fit!
CC: I would just like to give one further thank you to my loyal Special Effects crew who have embraced my wildest ideas and proved themselves to be real geniuses.
I would also like to thank The Who, The Rolling Stones, and Eric Clapton for serenading me throughout the years (laughs) Rock-n-Roll!
THE DARK KNIGHT RISES -- starring Christian Bale, Tom Hardy, Anne Hathaway, Michael Caine, Gary Oldman, Morgan Freeman, Joseph Gordon-Levitt and Marion Cotillard -- will be released on DVD and Blu-ray DECEMBER 6, 2012!