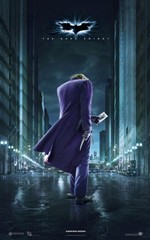 5:54 PM TEXAS TIME: SLATE.COM has a nice article on the marketing future for THE DARK KNIGHT. Here are a few highlights:
* Warner Bros. insists that director Christopher Nolan got what he needed [from Heath Ledger in terms of audio] while filming.
* Warner Bros./Mr. Nolan will hire a voice artist if needed -- but will never address it publicly.
* Allegedly, the folks over at Warner Bros. will meet today -- January 31st, 2008 -- to discuss and deal with marketing issues brought about by Heath's death.
* "A Warner executive acknowledges that another actor may at least have to provide a Joker voice for such things as a planned theme-park attraction. Some marketing efforts -- like an idea that involved calls to fans' cell phones -- may be scrapped." [NO! KEEP IT UP! - Jett]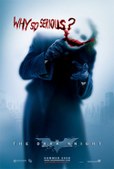 * "Now Warner has to figure out what to do with products bearing that likeness. 'You don't want people to think you're exploiting his death,' the source explains. 'But his character is part of the movie, and he was on board with wanting to do this with his character.' And if Warner doesn't release the merchandise, 'The pirates would come out of the woodwork, and then it's completely out of control.' [Yep. I promise, most people would consider it a tribute to Heath. - Jett]
* Purportedly, the plan all along was to start marketing with The Joker and then segue into a campaign centered around Harvey Dent. [Hell YES! Fake political ads anyone? - Jett]
For the full story, visit SLATE.COM. Thanks to "Chris M." for the heads up.