TITLE: SUICIDE SQUAD
RELEASE DATE: August 5, 2016
DIRECTOR: David Ayer
STUDIO: Warner Bros. Pictures
RATING: PG-13
RUNNING TIME: 2 Hours/10 Minutes
OFFICIAL SITE: SUICIDESQUAD.COM
FACEBOOK: OFFICIAL FB PAGE
TWITTER: OFFICIAL TWITTER PAGE
MAIN CAST: Will Smith (Deadshot), Margot Robbie (Harley Quinn), Jared Leto (The Joker), Joel Kinnaman (Rick Flagg), Viloa Davis (Amanda Waller), Jai Courtney (Boomerang), Cara Delevingne (Enchantress)
PRODUCERS: Charles Roven, Deborah Snyder, Geoff Johns, Zack Snyder, Colin Wilson
STORY/SCREENPLAY: David Ayer
OFFICIAL SYNOPSIS: It feels good to be bad…Assemble a team of the world's most dangerous, incarcerated Super Villains, provide them with the most powerful arsenal at the government's disposal, and send them off on a mission to defeat an enigmatic, insuperable entity. U.S. intelligence officer Amanda Waller has determined only a secretly convened group of disparate, despicable individuals with next to nothing to lose will do. However, once they realize they weren't picked to succeed but chosen for their patent culpability when they inevitably fail, will the Suicide Squad resolve to die trying, or decide it's every man for himself?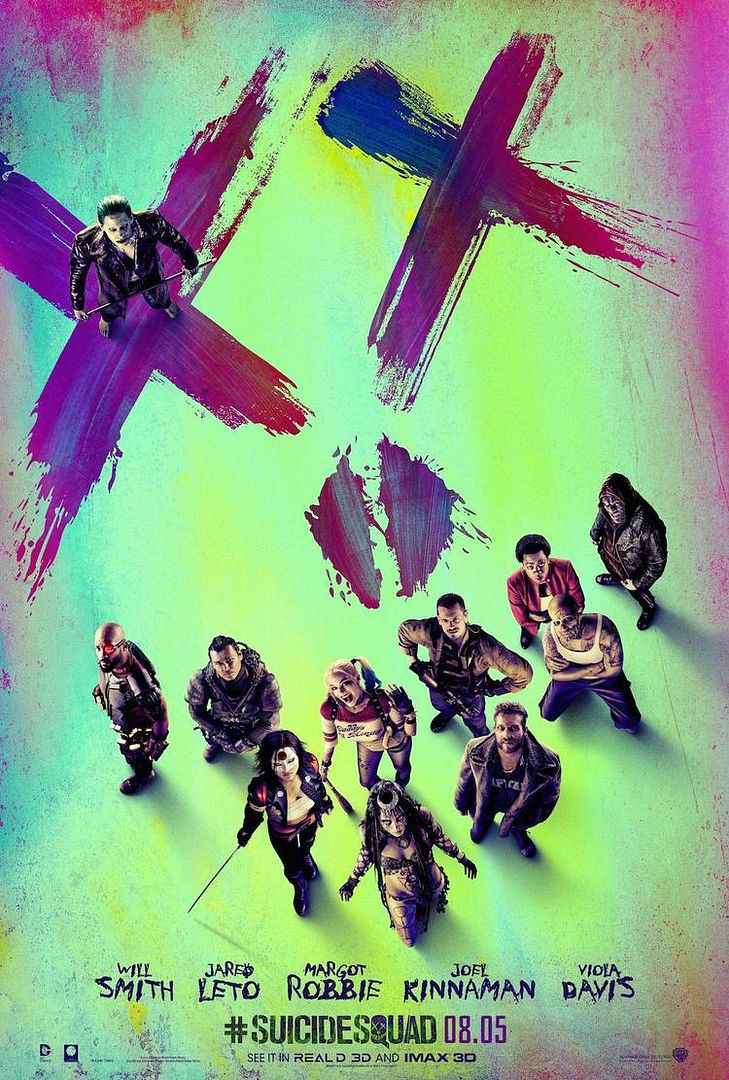 Leto Says The Joker Will Return in the Future (7.29.16)
Will Smith on TONIGHT SHOW (7.29.16)
"It's Good to be Bad" Featurette (7.29.16)
Ayer Talks The Joker is Jason Todd Rumor (7.26.16)
Leto's Joker "Smiles" on a New EMPIRE Cover (7.25.16)
Leto Talks Joker on CONAN (7.24.16)
The Joker Promo Spot (7.21.16)
Harley Quinn Promo Spot (7.20.16)
Deadshot Promo Spot (7.19.16)
Waller/Flag Promo Spot (7.19.16)
Character Videos Released (7.16.16)
Batman In SS Explained (7.12.16)
EW SS Covers (7.7.16)
International Character Posters (6.20.16)
"Funky" One Sheet (6.20.16)
Trailer #3 (4.11.16)
Trailer #3 (4.11.16)
Trailer #2 (1.19.16)
New Poster/One Sheet Released (1.19.16)
1st Character Posters Revealed (1.18.16)
1st Round of SS Toys Revealed (1.9.16)
Official Synopsis Released (12.15.15)
Ike Barinholtz Talks SS on STERN (12.10.15)
Deadshot, Enchantress EMPIRE Covers (10.29.15)
EMPIRE Cover w/Margot Robbie as Harley Quinn (10.29.15)
EMPIRE Cover of Leto as The Joker is Shocking! (10.29.15)
Jared Leto as The Joker on EMPIRE Cover (10.29.15)
Filming on SS Wraps by (8.29.15)
Pic of Harley Quinn, Tattoo Artist by (8.18.15)
Cara Delevingne Talks Enchantress by (7.18.15)
1st Trailer Analysis/Thoughts by "Jett" (7.15.15)
1st Trailer (7.14.15)
Ayer Says Spy Pics/Video Revealed Nothing (6.1.15)
VIDEO: Behind the Scenes on the SUICIDE SQUAD Set (5.7.15)
1st SUICIDE SQUAD Cast Pic/Will Smith as Deadshot - Jett's Take (5.4.15)
1st SUICIDE SQUAD Cast Pic/Will Smith as Deadshot (5.4.15)
Is Batman in SS (4.28.15)
1st Official Pic of Jared Leto as The Joker (4.25.15)
Common Joins the SS Cast (4.23.15)
Leto Snapchat's a Pic of Him as The Joker (4.17.15)
Jared Leto (Almost) as The Joker! (4.10.15)
Killer Croc in SS (3.31.15)
SS Joker Rumors (3.13.15)
Jai Courtney on Why He Signed Up for SS (3.12.15)
Has the Main Villain of SS Been Revealed? (3.11.15)
Leto Posts Pic of His "Joker Haircut" (3.5.15)
Robbie Talks SS's Tone, Leto Gets A Hairuct (3.4.15)
David Ayer Describes The Joker in One Word (2.28.15)
Leto Says The Joker is a "Beautiful Disaster (2.20.15)
WB Eyes Joel Kinnaman For Rick Flagg (2.15.15)
Ayer Likes Teasing SS On Twitter (2.8.15)
Jake Gyllenhaal Passes On Rick Flagg Offer (1.23.15)
Tom Hardy's Out - Is Jake Gyllenhaal In? (1.15.15)
SUICIDE SQUAD Cast/Characters Announced (12.2.14)
SUICIDE SQUAD to Film in Toronto (12.2.14)
Margot Robbie Cast as Harley Quinn in SUICIDE SQUAD? (11.10.14)
Is Jared Leto The Joker in SUICIDE SQUAD? (11.7.14)

SUICIDE SQUAD


SUICIDE SQUAD Review by Bill "Jett" Ramey
SUICIDE SQUAD Review by Jo Hyde


Buy SUICIDE SQUAD merchandise on AMAZON.COM!


comments powered by Disqus