Anne Hathaway, Matthew McConaughey Join INTERSTELLAR Cast
Posted by: Jett (@BATMANONFILM)
April 9, 2013

Meow!
According to DEADLINE.COM, Anne Hathaway will star with (my fellow Texan) Mathew McConaughey in director Christopher Nolan's upcoming sci-fi film, INTERSTELLAR. Although a deal hasn't been made, Deadline says it's going to happen.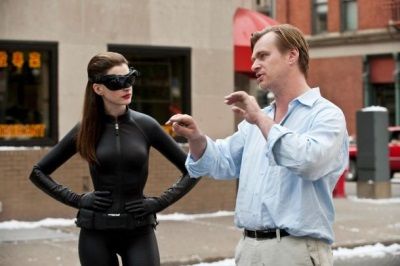 Anne Hathaway and Chris Nolan on the set of THE DARK KNIGHT RISES
Hathaway's potential casting isn't a surprise. If you've covered Mr. Nolan and his films over the years like I have, you know that he likes to cast (and work with) folks he's familar with. How long before y'all think his "Good Luck Charm" -- Sir Michael Caine -- snags a gig on the project?! Below you'll find the press release sent to BOF by Paramount/Warner Bros. back in March.
HOLLYWOOD, CA (March 8, 2013) – Paramount Pictures and Warner Bros. Pictures jointly announced today that writer/director Christopher Nolan's "INTERSTELLAR" will be co-produced and distributed by the two studios, with Paramount Pictures handling Domestic distribution and Warner Bros. Pictures distributing the film Internationally. "INTERSTELLAR" will be released beginning November 7, 2014, in theaters and IMAX®.
Directed and written by Academy Award-nominee Nolan ("INCEPTION," "THE DARK KNIGHT RISES"), "INTERSTELLAR" is based on a script by Jonathan Nolan. The film will be produced by Emma Thomas and Christopher Nolan of Syncopy Films and Obst of Lynda Obst Productions. Kip Thorne will executive produce. The film will depict a heroic interstellar voyage to the furthest reaches of our scientific understanding.
Brad Grey, Chairman and CEO of Paramount Pictures said, "As a filmmaker and storyteller, Chris has continuously entertained the world with his extraordinary and unparalleled talents. I am pleased beyond measure to welcome him to the Paramount Pictures family. Partnering with Chris, Emma, Lynda and Warner Bros. to release this original idea next November is the perfect way to start the Thanksgiving and holiday movie season for audiences around the world."
Jeff Robinov, President, Warner Bros. Pictures Group, said, "Christopher Nolan is truly one of the great auteurs working in film today, and we're extremely proud of our successful and ongoing collaboration with him and Emma Thomas. We are excited to be teaming with Paramount, and look forward to working with the Nolans, and producer Lynda Obst, on this extraordinary new project."



comments powered by