Blu-ray Review: MAN OF STEEL
Posted by: Bill "Jett" Ramey (Follow @BATMANONFILM)
November 14, 2013 2013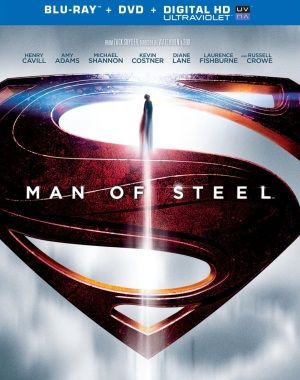 Thanks to the nice folks at Warner Bros., I recently received a copy of the Blu-ray release of MAN OF STEEL – the Superman on film reboot directed by Zack Snyder and starring British thesp Henry Cavill as Kal El/Clark Kent. I'm not going to provide you all with yet another review of the film – you can read my review of MOS from this past Summer RIGHT HERE – but I will offer you all a short reassessment of the flick before providing details on the "Extras."
I wrote my review of the MOS theatrical release right after first seeing it out in Los Angeles in May of 2013. At the time, I gave the film a grade of "A." Upon subsequent viewings (at the MOS world premiere in New York, a local press screening here in Texas, and a couple more via this Blu-ray set), a grade of "B" is more appropriate. The finale – which consisted of the destruction of a major chunk of Metropolis due to the battle between Superman and General Zod – was way too long. Also, since the entire town of Smallville must know that Clark Kent is Superman, how in the hell does the U.S. military NOT know – or discover rather quickly – the true identity of the flying alien in red and blue tights?! Heck, he even tells then he grew up in Kansas!
My biggest issue with MAN OF STEEL isn't with the movie itself. I'm PISSED that it won't be getting a proper sequel! I'm a Batman fan first and foremost, but that doesn't mean I want to see Batman up on the big screen at the expense of another cool – and SOLO – Superman film first. Oh well, it is what it is and I'll deal with the BATMAN VS. SUPERMAN cards that we've all been dealt.
The bottom line for me is that while my MOS nitpicks got nickpickier with additional viewings, the good stuff from the film held up or got gooder…er...better. I'm still of fan of MAN OF STEEL and if your are too, you'll want to add the movie to your collection. BUT, before you run out and purchase it, I know many of you reading this review are more interested in the extras/bonus features as they can be a deal breaker for some. Here's the skinny on that…
On Disc One, you'll find some cool "behind the scenes" featurettes. "Strong Characters, Legendary Roles" is a 25-ish minute that focuses on the character of Superman and how Mr. Cavill fit the role like a glove. Another just short of a half hour is titled "All-Out Action" which covers – you guessed it – how all of the film's action scenes were achieved. It also includes video of Cavill, Michael Shannon and Antje Traue training (i.e. "working out") for the film. Then there's "Krypton Decoded" which obviously spotlights the planet of Krypton and the Kryptonian technology we saw in the film. For me, the Krypton stuff in MOS was flat-out awesome and is one of my favorite parts of the film. I know that it'll never happen, but I'd LOVE to see a film set on a pre-MAN OF STEEL Krypton that focuses on the younger incarnations of Jor-El and Zod. Anyone else with me on this?
On Disc Two, you'll find the "enhanced viewing" mode which goes by the title of "Journey of Discover." Basically, Zack Snyder and other members of the cast and crew pop up at points to discuss the film. I found this quite enjoyable and it really doesn't interfere with one's viewing of the movie. I will note that it does extend the film's runtime to almost three hours, so make sure you put aside that chunk of time if you want to view MOS in this mode.
Finally (and also found on Disc Two), there's a cool documentary-style featurette about the planet of Krypton. Yes, Krypton isn't real, but it's still fun to pretend it is! Can I get a "Hell Yeah!" for my aforementioned Krypton movie? Anyone...ANYONE? Anyway...
With the film and all of the extras/bonus features included, I absolutely recommend this Blu-ray edition of MAN OF STEEL. To me, it unquestionably has director Zack Snyder's "fan-friendly" fingerprints all over it. Look, I respect the hell out of Chris Nolan and we're friends and all, but quite frankly, he'd NEVER (and didn't) do something like an "enhanced viewing" for any of his three Batman film like Snyder and company did for MOS…you know what I mean?
Therefore, appreciate, buy, and enjoy it I say! - Bill "Jett" Ramey



comments powered by