TLBM Will Be Released In IMAX!
Posted by: Bill "Jett" Ramey (Follow @BATMANONFILM)
Date: December 7, 2016

Warner Bros. has announced that THE LEGO BATMAN MOVIE will get an IMAX release (via the film's official Facebook page) by dropping another cool poster. Check it out!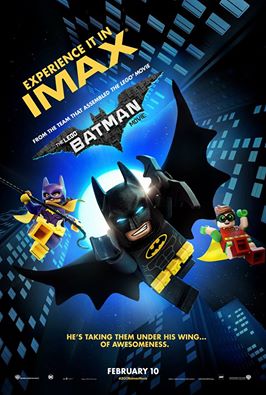 I want Batman to take me under his wing of awesomeness. Don't you? AND...
BOF is indeed having a watch party for THE LEGO BATMAN MOVIE...CLICK HERE FOR DETAILS!
THE LEGO BATMAN MOVIE hits theaters on FEBRUARY 10, 2017!
In the irreverent spirit of fun that made THE LEGO MOVIE a worldwide phenomenon, the self-described leading man of that ensemble – LEGO Batman – stars in his own big-screen adventure: THE LEGO BATMAN MOVIE. But there are big changes brewing in Gotham, and if he wants to save the city from The Joker's hostile takeover, Batman may have to drop the lone vigilante thing, try to work with others and maybe, just maybe, learn to lighten up.

comments powered by