JUSTICE LEAGUE to Follow BvS
Posted by: Bill "Jett" Ramey (Follow @BATMANONFILM)
April 28, 2014

Per THE WALL STREET JOURNAL, Zack Snyder's follow-up to the about-to-begin-filming BATMAN VS. SUPERMAN will be JUSTICE LEAGUE. Here's an excerpt from the report...
Like "Man of Steel" and its follow-up, which starts production next month, "Justice League" will be directed by Zack Snyder. Henry Cavill is expected to return as Superman, along with Ben Affleck and Gal Gadot, who play Batman and Wonder Woman, respectively, in 2016's "Man of Steel" sequel tentatively titled "Batman vs. Superman."
"It will be a further expansion of this universe," said Mr. Silverman. "'Superman vs Batman' will lead into 'Justice League.'"
A script is still in development and Warner has not set a release date, though the movie is unlikely to come out before 2018. Mr. Silverman would not comment on what other heroes might join Superman, Batman and Wonder Woman in the movie. However the studio has recently been casting the role of Cyborg, a half-robotic hero who is expected to have a cameo in "Batman vs. Superman" and then appear in "Justice League." Other DC heroes who have been in Justice League comic books include Aquaman, Flash and Green Lantern.
I'm sure this news doesn't surprise anyone -- especially if you're a regular reader of BOF -- as we've been hearing whispers of this happening for quite a while now.
For the full story, click on the link provided above.
BATMAN VS. SUPERMAN hits theaters on MAY 6, 2016.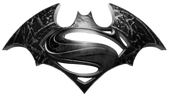 comments powered by