J.K. Simmons Cast as Commissioner Gordon in JUSTICE LEAGUE
Posted by: Bill "Jett" Ramey (Follow @BATMANONFILM)
Date: March 7, 2016

Per VARIETY.COM, J.K. Simmons has been cast as Comissioner Gordon in the upcoming JUSTICE LEAGUE film.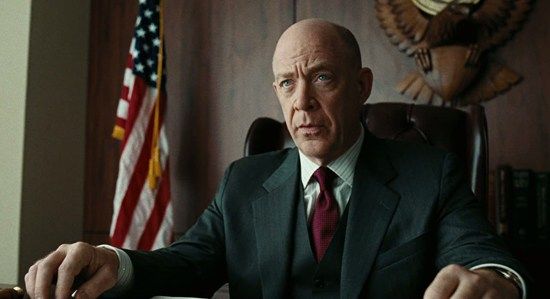 Simmons takes over the role of Jim Gordon – albeit it different Jim Gordon, continuity-wise – from Gary Oldman who played Gotham's police commissioner in THE DARK KNIGHT TRILOGY. Simmons will the fifth actor to play the iconic Batman Family character on on the big screen, following Lyle Talbot in the 1949 serial BATMAN AND ROBIN, Neil Hamilton in the 1966's BATMAN (as well as the 1960s TV series), Pat Hingle in the Tim Burton/Joel Schumacher anthology (BATMAN, BATMAN RETURNS, BATMAN FOREVER, BATMAN & ROBIN), and, of course, the aforementioned Gary Oldman. Ben McKenzie currently plays a younger version of the character on TV on FOX's GOTHAM.

Commissioner Gordon (via DC Comics)
There had been online rumors suggesting that Gordon was dead by the time of the events of BATMAN v SUPERMAN, but that doesn't appear to be the case.
Ironically, I was just discussing who would play Jim Gordon in Ben Affleck's solo Batman film – which might be a prequel (at least part of it) – yesterday on Twitter...
In fact, one fan suggested Mr. Simmons in the Tweet exchange...
Great casting! This dude can act and I think he'll do a heck of a job. What do you all think? Sound off in the comments section below!
JUSTICE LEAGUE, PART 1 hits theaters on Nov 17, 2017. HOWEVER...
Next is BATMAN v SUPERMAN which hits theaters on March 25, 2016. CLICK HERE for all of BOF's extensive BvS coverage!

comments powered by