"A Bitter Pill to Swallow" (S2/E9)
Author: Ricky Church (Follow RICHARDCHURCH16)
Date: November 24, 2015

EPISODE INFO: "A Bitter Pill to Swallow" originally aired on the FOX television network on Monday, November 16, 2015. GOTHAM is based on BATMAN characters owned and published by DC Comics.
SYNOPSIS: Gordon and Barnes continue cleaning up Gotham, and Gordon comes face-to-face with one of the city's most dangerous hitmen, Eduardo Flamingo (guest star Raul Castillo). Meanwhile, Nygma and Penguin cross paths again, and Bruce pressures Galavan into handing over the name of his parents' murderer.
MAIN CAST: Ben McKenzie as Detective James Gordon, Donal Logue as Harvey Bullock, Michael Chiklis as Detective Nathaniel Barnes, Sean Pertwee as Alfred, Robin Lord Taylor as Oswald Cobblepot/The Penguin, Erin Richards as Barbara Kean, David Mazouz as Bruce Wayne, Camren Bicondova as Selina Kyle/the future Catwoman, Cory Michael Smith as Edward Nygma/the future Riddler, James Frain as Theo Galavan, Jessica Lucas as Tabitha Galavan, Chris Chalk as Lucius Fox, Nicholas D'Agosto as Harvey Dent, and Zabryna Guevara as Captain Sarah Essen.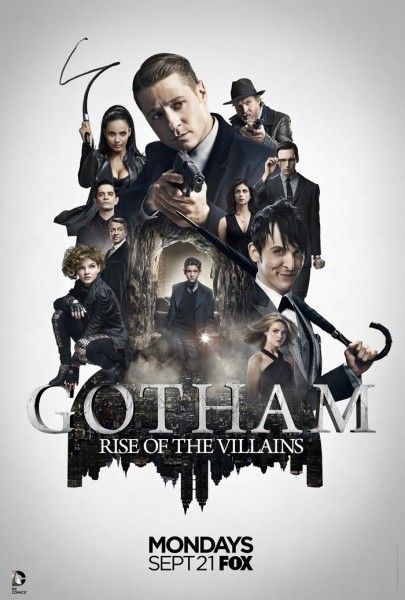 GOTHAM's second season got fairly darker with "A Bitter Pill To Swallow" and was an improvement over the last couple episodes in some respects. While there wasn't much overall story progression, the focus mostly laid on character development for several members of the cast, something GOTHAM rarely does.
Last episode examined Gordon's dark side and that examination continued here as he was confronted with his increasingly violent methods head-on from multiple people. Gordon has been much more ruthless this season in his zeal to clean up Gotham, but this has been one element that has taken Gordon's character too far in some instances. Leslie and Barnes both called Gordon out on his volatile methods, forcing him to confront the darkness within him. There was some great character development for Gordon as he recognized the need to step back before he crossed a line he could never come back from.
Captain Barnes got some great development as well. For the first time since his introduction, we got a better understanding of his character's motivations and learnt some of his history, including why he's so by the book. After having his own brush with darkness, Barnes vowed never to cross that line again. Barnes stood out very well in this episode and it's largely due to Michael Chiklis' acting during his heart-to-heart with Gordon. Hopefully Barnes will continue to get this kind of development in the future.
The Penguin and Nygma also received a fair bit of development. They met briefly in Season One, but this was truly their first interaction as Nygma attempted to help and bond with an injured Penguin. Nygma was one of last season's sore spots, but he's improved greatly so far this season and his new partnership/friendship with Penguin shows a lot of potential. Its funny how their stories now mirror each other's slightly as their actions have unwillingly caused fatal harm to their loved ones. GOTHAM Now that he's seemingly made his two minds one, Cory Michael Smith and his depiction of Nygma actually belong in GOTHAM and he already shows a lot of promise alongside Robin Lord Taylor. Taylor has always been GOTHAM's saving grace, elevating actors beside him so I'm very curious where they'll take this new pairing.
The episode also gave GOTHAM some of its most graphic content to date yet. There was quite a lot of explicit imagery during the fight sequences with shots to the face and stab wounds shown in detail, especially in one of the final scenes. The explicit violence was a little surprising, but, unlike many previous episodes, it didn't stick out like a sore thumb. The story's tone was consistently dark as Gordon and Barnes fought for their lives.
I haven't given the last few episodes of GOTHAM really favourable reviews, but hopefully this is the start of the show bouncing back to its good status earlier this season. - Ricky Church
STRAY THOUGHTS...
* So many of the Strike Force members have died, yet we've hardly gotten a chance to know any of them. I think the only reason the officer's death had an emotional impact was more for the way she died than for her character...
* I didn't mention Eduardo Flamingo in the main review, but he made a formidable foe. It was surprising he was brought in so late, but he certainly made an impression. Though they implied it, I wonder if they'll make his high pain tolerance explicitly clear in his eventual return...
* Bruce and Alfred also had a good B story. David Mazouz and Sean Pertwee definitely have great chemistry together.
GRADE: A


GOTHAM airs Mondays at 7PM CT/8PM ET on FOX.
CLICK HERE for all of BOF's GOTHAM coverage.

comments powered by