"Scarifiction" (S2/E5)
Author: Ricky Church (Follow RICHARDCHURCH16)
Date: October 22, 2015

EPISODE INFO: "Scarifiction" originally aired on the FOX television network on Monday, October 19, 2015. GOTHAM is based on "Batman" characters owned and published by DC Comics.
SYNOPSIS: Galavan and Penguin join forces with a dangerous family in Gotham. Then, as the rivalry between the Waynes and the Galavans resurfaces, Gordon struggles to maintain order in the city in the all-new "Rise of the Villains: Scarification" episode of GOTHAM airing Monday, Oct. 19th (8:00-9:00 PM ET/PT) on FOX.
MAIN CAST: Ben McKenzie as Detective James Gordon, Donal Logue as Harvey Bullock, Michael Chiklis as Detective Nathaniel Barnes, Sean Pertwee as Alfred, Robin Lord Taylor as Oswald Cobblepot/The Penguin, Erin Richards as Barbara Kean, David Mazouz as Bruce Wayne, Camren Bicondova as Selina Kyle/the future Catwoman, Cory Michael Smith as Edward Nygma/the future Riddler, James Frain as Theo Galavan, Jessica Lucas as Tabitha Galavan, Chris Chalk as Lucius Fox, Nicholas D'Agosto as Harvey Dent, and Zabryna Guevara as Captain Sarah Essen.
PREVIOUS EPISODE: S2/E4 "Strike Force" Review by Ricky Church (10.12.15)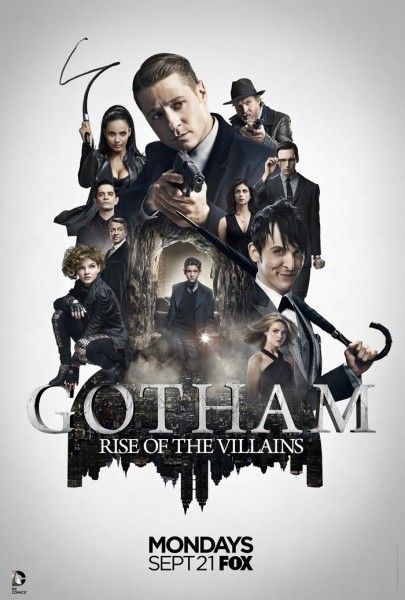 Some of the best Batman stories are when Gotham City is treated almost as a character of its own, exploring its rich history and deep mythology. Current BATMAN writer Scott Snyder has done an excellent job exploring Gotham City with tales like "The Black Mirror," "Court of Owls" and the more recent "Zero Year." Before that Grant Morrison also explored the city's history and characteristics with his run on the BATMAN title as well as ARKHAM ASYLUM: A SERIOUS HOUSE ON A SERIOUS EARTH. While GOTHAM explored some aspects of the city's characteristics last season, it's now making headway by revealing more about its past.
With his mother still locked away somewhere, The Penguin is still forced to do Theo Galavan's bidding, but is adamant as ever to rescue her and undermine Theo. To this end, he starts digging into Theo's past and why he hired Penguin to steal an ancient-looking dagger. Theo's hinted at his family's old connections and resentment to Gotham City, but this episode may reveal how that animosity began, particularly in regards to Theo's interest in Bruce Wayne. It's an intriguing look at where Theo's motivations stem from, if the story Penguin was told is true and adds a new layer to Gotham's history in this show.
Robin Lord Taylor continues to be the best part of the show, especially as he displays a more vulnerable side to the up and coming crime boss. Not only is he extremely worried, Penguin certainly is getting very paranoid, two characteristics Taylor did a good job selling to the audience. However, there were some points where he seemed a little too cheesy, particularly when he let his paranoia get the better of him in his meeting with Tabatha. Despite that, Taylor is still the main draw of the series.
Another notable aspect of "Scarifiction" was the introduction of the future villain Firefly, only the character was gender swapped for the show. Firefly is a villain obsessed with fire, working as a pyrotechnic on movies before turning to arson as a source of income. It is interesting that Bridget, though she comes from a family of arsonists, is actually afraid of fire and forced into Theo and Penguin's arson scheme by her domineering stepbrothers. Unlike most of the famous villains who have appeared on GOTHAM, Bridget has an interesting, if slightly clichéd, story arc as she just wants to be included and loved by the members of her abusive 'family'. Her friendship with Selina also shows a softer side to the future Catwoman that is hardly seen on the show, helping develop both characters even further. It's also notable that Bridget's arc, much like Scarecrow's last season, will be told over two parts.
The GCPD front may have actually been the least entertaining bit of the episode. Not too much happened with them and neither Captain Barnes nor any member of the strike force received any more development. In fact, one of the negative aspects of this episode was how little we got to know them, especially as one of them died due to Bridget's inexperience. We're supposed to care that the officer died and it is dealt with as a big deal, but there's little emotional investment since the character was merely introduced last week. He was ultimately used as a plot device rather than an actual flesh and blood character.
While this was an entertaining episode and a step in the right direction for the show, overall it had some flaws that made it weaker than the previous episodes this season. GOTHAM is improving, but more slowly than it should be. - Ricky Church
STRAY THOUGHTS...
* One thing I did not like was Alfred punching Selina. I know Alfred is supposed to be sterner in this continuity, but its still so out of character for him to punch a kid, even if she did kill his old friend...
* All that talk of "if" and "when" Fish comes back makes me think she is for sure coming back at some point. After all, she did 'die' the classic comic book death by falling into water with no body found...
* Another part that stuck out on the GCPD front was Gordon and Leslie's double date with Nygma and Kris. Ultimately it didn't lead anywhere or add further progression to the episode. AND...
* Looks like I was wrong on both the Court of Owls and Gates of Gotham. Theo and Tabatha seem to actually be involved with the Order of St. Dumas!
GRADE: B-


GOTHAM airs Mondays at 7PM CT/8PM ET on FOX.
CLICK HERE for all of BOF's GOTHAM coverage.

comments powered by