"Strike Force" (S2/E4)
Author: Ricky Church (Follow RICHARDCHURCH16)
Date: October 16, 2015

EPISODE INFO: "Strike Force" originally aired on the FOX television network on Monday, October 12, 2015. GOTHAM is based on "Batman" characters owned and published by DC Comics.
SYNOPSIS: Captain Barnes (Michael Chiklis) is called to duty to create a law-abiding task force, with the help of Gordon. Meanwhile, Penguin gets caught up in a favor for Galavan, and Nygma asks Kringle out on a date in the all-new "Rise of the Villains: Strike Force" episode of GOTHAM airing Monday, Oct. 12 (8:00-9:00 PM ET/PT) on Fox.
MAIN CAST: Ben McKenzie as Detective James Gordon, Donal Logue as Harvey Bullock, Michael Chiklis as Detective Nathaniel Barnes, Sean Pertwee as Alfred, Robin Lord Taylor as Oswald Cobblepot/The Penguin, Erin Richards as Barbara Kean, David Mazouz as Bruce Wayne, Camren Bicondova as Selina Kyle/the future Catwoman, Cory Michael Smith as Edward Nygma/the future Riddler, James Frain as Theo Galavan, Jessica Lucas as Tabitha Galavan, Chris Chalk as Lucius Fox, Nicholas D'Agosto as Harvey Dent, and Zabryna Guevara as Captain Sarah Essen.
PREVIOUS EPISODE: S2/E3 "The Last Laugh" Review by Ricky Church (10.5.15)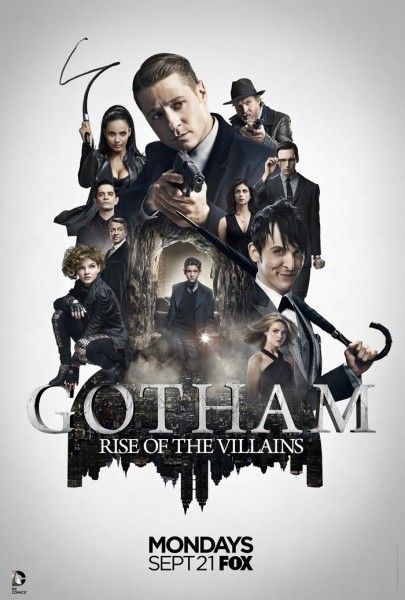 Though "Strike Force" may not have been quite as strong as their last couple of episodes, GOTHAM continued its steady improvement in their second season. Theo Galavan takes his next steps into ruling Gotham City by announcing his candidacy for mayor while he blackmails Penguin to kill the other contenders. Meanwhile, Gordon meets his new commissioner who is also very frustrated with the corrupt system and looks to change it.
Michael Chiklis certainly made quite an introduction as Nathaniel Barnes. He displayed a lot of screen presence throughout his introductory scene and the rest of the episode. Barnes seems like he'll make a good fit for Gordon as his new captain; they've already formed a solid alliance with each other, though Gordon is unfortunately forced to keep some secrets from Barnes.
"Strike Force" had a very strong UNTOUCHABLES vibe as Barnes and Gordon sought out rookies to form a team that was answerable only to them with their single goal to eliminate crime and corruption in the city. While it was good to see Gordon gain some fresh allies, it was a little disappointing that Bruno Heller and others didn't take the chance to mine from the Batman comics many GCPD characters, namely from Ed Brubaker and Greg Rucka's GOTHAM CENTRAL. Obviously Renee Montoya and Crispus Allen couldn't be used because of their brief roles last season, but it was surprising characters like Maggie Sawyer and Jim Corrigan weren't introduced (though in Maggie's case, that may be because she's originally a Superman character).
The Penguin got his first big episode since the season premiere after having been pushed to the side during Jokrome's story. Theo Galavan placed him in a tough position after revealing he kidnapped the ambitious mobster's mother, making Penguin truly vulnerable for the first time in the series. While this is an interesting predicament, a couple things didn't quite ring true for Penguin's character; I didn't see the need for him to murder one of the mayoral candidates himself when he could have just ordered Zsasz do it. All this did was give an excuse for the story to move forward by Gordon being told it was a short guy with a limp.
It does, however, make the relationship between Penguin and Gordon a bit more compelling. In my review of the premiere I stated that it seemed like the consequences of Gordon's actions could possibly have huge ramifications for future episodes, something Season 1 didn't do often enough. That comes to fruition here as Penguin holds information over Gordon's head to Barnes. It definitely creates something new in their dynamic.
Theo's plan doesn't extend only to Penguin either as he's subtly manipulating Bruce Wayne to his own ends. It was a surprise to see such a prominent character in Batman lore as Silver St. Cloud appear by his side as well, though she most likely doesn't know Theo's real personality. Time will only tell how these new relationships will develop, but for now its nice to see Bruce drawn much more into the plot than he was last season, where most of the time he and Alfred felt too removed from the main goings-on of the show.
"Strike Force" was another good entry to the season that created some interesting new dynamics between its characters. Its just a shame more elements weren't pulled from the comics to enhance the story a bit more.
STRAY THOUGHTS...
* One thing I did not like was Alfred punching Selina. I know Alfred is supposed to be sterner in this continuity, but its still so out of character for him to punch a kid, even if she did kill his old friend...
* I think the people of Gotham are really dumb because its pretty obvious Theo is a bad guy...
* The Penguin's distain for "chaos for chaos' sake" is a very nice reflection of his actual relationship with Joker in the comics. AND...
* Riddler's story is somewhat improving, but still tonally off from the rest of the show so far. AND...
* Did anyone else notice the reference to BATMAN: THE ANIMATED SERIES' episode "Shadow of the Bat" as the false assassination attempt on Theo was made?
GRADE: B-


GOTHAM airs Mondays at 7PM CT/8PM ET on FOX.
CLICK HERE for all of BOF's GOTHAM coverage.

comments powered by