"Knock, Knock" (S2/E2)
Author: Ricky Church (Follow RICHARDCHURCH16)
Date: September 29, 2015

EPISODE INFO: "Knock, Knock" originally aired on the FOX television network on Monday, September 28, 2015. GOTHAM is based on "Batman" characters owned and published by DC Comics.
SYNOPSIS: Following his reinstatement, Gordon is thrust onto the high-profile case tracking the deadly inmate escape from Arkham Asylum. Meanwhile, Galavan plans his next move, while Bruce enlists the help of his father's old friend to unlock the secrets in his office, and Nygma attempts to ask out Kristin Kringle (guest star Chelsea Spack) on a date in the all-new "Rise of the Villains: Knock, Knock" episode of GOTHAM airing Monday, Sept. 28 (8:00-9:00 PM ET/PT) on FOX.
MAIN CAST: Ben McKenzie as Detective James Gordon, Donal Logue as Harvey Bullock, Michael Chiklis as Detective Nathaniel Barnes, Sean Pertwee as Alfred, Robin Lord Taylor as Oswald Cobblepot/The Penguin, Erin Richards as Barbara Kean, David Mazouz as Bruce Wayne, Camren Bicondova as Selina Kyle/the future Catwoman, Cory Michael Smith as Edward Nygma/the future Riddler, James Frain as Theo Galavan, Jessica Lucas as Tabitha Galavan, Chris Chalk as Lucius Fox, Nicholas D'Agosto as Harvey Dent, and Zabryna Guevara as Captain Sarah Essen.
PREVIOUS EPISODE: S2/E1 "Damned if You Do..." Review by Ricky Church (9.29.15)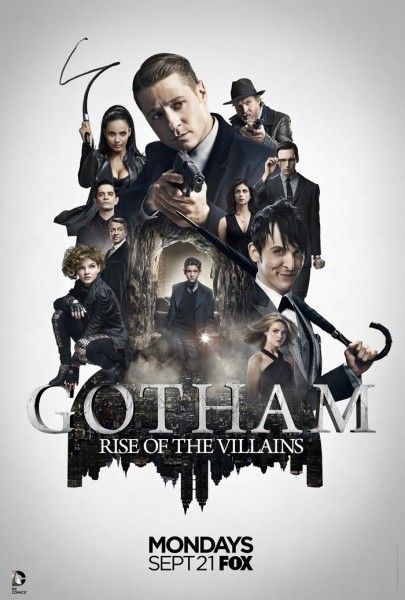 We were watching GOTHAM, right?
Maybe it's just me, but "Knock, Knock" was actually… dare I say it…good? That sounds SO strange to say.
"Knock, Knock" told a serious, and very dark, story from beginning to end with almost no other storyline interrupting or crammed in there. GOTHAM's tendency has usually been to cram a lot of plotlines and characters into one episode. Very rarely does the show ever focus on just one or even two storylines so this felt like a very fresh and complete episode.
A lot of the acting was a step up from last week and even the final few episodes of last season. Ben McKenzie's portrayal of Gordon was very good as he worked to find the escaped Arkahm inmates. James Frain also did a great job with his few scenes as the mysterious Theo Galavan. Sometimes Frain went a little over the top, but that was mostly due to the dialogue than his acting. Even Erin Richards was good in her few scenes, though I do wonder if Bruno Heller and the GOTHAM team have made Barbara too dark too quickly.
The two actors who really stole the show were actually David Mazouz and Sean Pertwee as Bruce and Alfred. They shared some really good, emotional scenes together, most especially when Bruce temporarily fired Alfred. The anguish on their faces was quite palpable and again later on as they reconciled. Pertwee impressed again during his conversation with Chris Chalk's Lucius Fox as he transformed from friendly stranger to threatening guardian in a short timespan. While GOTHAM has always struggled a bit on the Bruce and Alfred front, they've been able to do really well whenever it comes to the special bond these two share. It's just a shame these emotional scenes between the two characters are so few and far between throughout the series.
While I still don't like the direction of Jerome's character there's no denying Cameron Monaghan is doing a good job in the role and clearly having fun with it. He plays the psychopath villain in a very compelling manner; his standout scene was early on as he essentially played "Russian Roulette" by himself to assert his authority.
However, I may sound like a broken record, but GOTHAM could use a bit more subtlety when it comes to Jerome. He's basically full-on Joker without the makeup/permawhite skin, costume and name at this point. Aside from tampering with traditional continuity where The Joker is a reaction to Batman's presence, looking at Jerome from a character standpoint, there isn't really much of an arc for him if he's already crazy, laughing it up and spreading chaos around Gotham City just for fun. When Jerome does make the eventual turn into The Joker, there won't really be an evolution of his character because he'll already have been that way for so long. The final scene heavily alluded to Jerome's fate as the lighting made Monaghan's face look extremely pale and the blood smeared across his face was reminiscent of a smile. He can pretty much go by the name "Jokrome" now instead.
Some scenes were still a bit off tonally, in part due to some directorial choices. As stated above, James Frain had some corny dialogue, but the scene that stood out in particular was the abduction of the school bus. It played some goofy music despite the tension of the scene and the standoff between Gordon and the inmates was awkwardly choreographed and shot. However, the majority of the episode was quite dark and brutal. One surprising factor was how graphic the GCPD massacre was as Jokrome and his crew mercilessly shot the cops. Very little of the violence was left to the imagination.
Overall, this was a HUGE improvement; not only over "Damned If You Do," but several of this series' other episodes. With such an attention to detail on the characters and the story it was telling rather than cramming everything it possibly could at once, "Knock, Knock" was a much stronger kick-off to the season than the premiere was. Hopefully this means better times truly are coming to GOTHAM.
STRAY THOUGHTS...
* I will not be surprised if Barbara becomes Gotham's version of Harley Quinn...
* There were quite a few homages to THE DARK KNIGHT sprinkled throughout the episode; such as the line "Good evening ladies and gentlemen" to Jokrome's video message to Gotham (which itself is a homage to BATMAN #1 in 1940). AND...
* I'm willing to bet within the next few episodes young Bruce Wayne comes face-to-face with Jokrome.
GRADE: A-


GOTHAM airs Mondays at 7PM CT/8PM ET on FOX.
CLICK HERE for all of BOF's GOTHAM coverage.

comments powered by