"Damned if you Do" (S2/E1)
Author: Ricky Church (Follow RICHARDCHURCH16)
Date: September 22, 2015

EPISODE INFO: "Damned if You Do..." originally aired on the FOX television network on Monday, September 21, 2015. GOTHAM is based on "Batman" characters owned and published by DC Comics.
SYNOPSIS: The Penguin is King of Gotham and after a shakeup at the GCPD, Detective James Gordon's moral compass wavers, as he seeks help from Cobblepott. Meanwhile, Bruce Wayne continues to explore the secrets from his father's office, while GOTHAM newcomers Theo Galavan (James Frain) and his sister, Tabitha (Jessica Lucas), make friends with some unlikely allies, a group of dangerous inmates from Arkham in the all-new "Rise of the Villains: Damned If You Do...."
MAIN CAST: Ben McKenzie as Detective James Gordon, Donal Logue as Harvey Bullock, Michael Chiklis as Detective Nathaniel Barnes, Sean Pertwee as Alfred, Robin Lord Taylor as Oswald Cobblepot/The Penguin, Erin Richards as Barbara Kean, David Mazouz as Bruce Wayne, Camren Bicondova as Selina Kyle/the future Catwoman, Cory Michael Smith as Edward Nygma/the future Riddler, James Frain as Theo Galavan, Jessica Lucas as Tabitha Galavan, Chris Chalk as Lucius Fox, Nicholas D'Agosto as Harvey Dent, and Zabryna Guevara as Captain Sarah Essen.
MAIN CAST: Drew Powell as Butch Gilzean, Peter Scolari as Commissioner Loeb, Anthony Carrigan as Victor Zsasz, James Andrew O'Connor as Tommy Bones, David Fierro as Zaardon, Cameron Monaghan as Jerome, Todd Stashwick as Richard Sionis, Will Brill as Arnold Dobkins, Stink Fisher as Aaron Helzinger, Dustin Ybarra as Robert Greenwood, Otto Sanchez as Odgen Barker, Philip Goodwin as Compere.
PREVIOUS EPISODE: S1/E22 "All Happy Families Are Alike" Review by Ricky Church (5.5.15)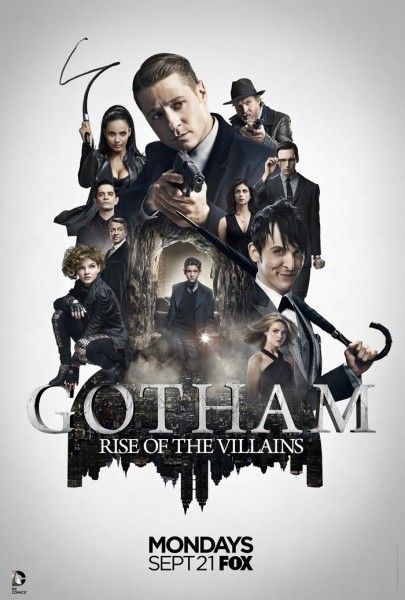 The new season of GOTHAM has started and one of the biggest questions going into it wasn't "what was Thomas Wayne hiding behind the fireplace" or "will The Penguin really rule Gotham," but can the show's quality improve from last season?
Season 1 was plagued with several problems from not-so-subtle hints at future villains to jarring shifts in tone and story. Season 2's premiere, "Damned If You Do," didn't immediately rectify Season 1's problems, but some aspects did get better towards the end of the episode.
Flashing forward a month after last season's finale, Gordon has been demoted (once again), Bullock has become a bartender, The Penguin is beginning his rule over Gotham's criminal element and Bruce can't get through a pesky steel door. Barbara has also entered the ranks of Arkham Asylum's inmates after her attempted murder of Leslie Thompkins, gaining the attention of Richard Sionis and Jo – I mean Jerome. Both of whom were seen last season after Gordon and Bullock put them away.
A lot of this episode was quiet set up for the most part. GOTHAM usually has never been quiet, but the premiere took its time setting up the story and new status quo. While it was never likely Gordon would be off the force for long, this temporarily brought about an interesting change for him as The Penguin's enforcer. Even though Gordon went to Cobblepott for the hundredth time for help, this instance had actual consequences, for good and bad, as Gordon killed a gangster (albeit in self-defense) in order for The Penguin to remove Commissioner Loeb from power.
The resolution with Loeb was quite a welcome one as well. It's a good sign that the show chose not to drag Gordon's feud with Loeb out any longer or simply kill Loeb off. One of Season 1's problems was dragging out many of the conflicts as much they could so this was a great way to conclude this storyline (for now at least) and truly shake things up. It also offered another great scene with Robin Lord Taylor's portrayal of The Penguin as he "negotiated" with Loeb.
Bruce's storyline also showed some promising character development. One scene in particular heavily foreshadowed Bruce's eventual evolution as he said "Sometimes the ugly thing can be the right thing" – something he'll most likely tell himself to justify his nightly obsession. The final scene again foreshadowed his character arc as he read the note from Thomas telling him to pursue happiness unless he's found a true calling to something else. Little on the nose, of course, but it fits with Bruce's character and could form the basis of a "I shall become a bat" scene down the line.
"Damned If You Do" wasn't without problems, however. Not-so-subtle hints at characters futures remain ("I like Selina. It's like having a cat around the house") as well as the shifts in tone. The Arkham scenes stood out with their campiness along with Zordon's screentime. It was particularly jarring when the scene would shift from Arkham to Loeb's home with Zsasz holding and playing with the head of Loeb's bodyguard. The abrupt tonal shift just did not work at all. The few go-pro-like shots of Gordon running also stood out like a sore thumb considering GOTHAM has never used shots like that before, especially since the scene didn't call for something like that.
Overall, Season 2's premiere was a surprising shift in quality and character development with some long lasting consequences. Though the episode did get better, it was a little too late as the campiness still harmed it by taking the viewer out of the story with its over-the-top moments and dialogue. Hopefully, though, the shift in quality will continue for the season.
STRAY THOUGHTS...
* Apparently Edward is full on schizophrenic now. That sure will be fun to watch…
* Though I still don't like the direction of Jerome's character, Cameron Monaghan does a good job of acting crazy. I just wish he wasn't The Joker sans make-up...
* Was I the only one who thought James Frain's "philanthropist and scientist" was going to end up being a pre-Mr. Freeze? AND...
* I couldn't help but notice Selina has gone back to her mini-Catwoman look as opposed to the punkish gangster from Season 1's finale. Good.
GRADE: C-


GOTHAM airs Mondays at 7PM CT/8PM ET on FOX.
CLICK HERE for all of BOF's GOTHAM coverage.

comments powered by